Included in this day: The Peak Tram and the Peak Tower, Ocean Park, That Lucky Golden Ticket to Tim Ho Wan, and Central Nightlife Part 2
Day 3.1. The Peak Tram and the Peak TowerMarch 5, 2011Everyone got up late from our schedule that morning, myself included. We journeyed to Central MTR from which we would find our way to the Peak Tram lower terminus. Mom insisted that we visit a church first, since March 4th was their 21st anniversary. We went into St. John's Church in Central, and noticing the similarity in architectural form to an Anglican cathedral in Singapore, I advised them that it was not Catholic. My parents were insistent and eventually were part embarrassed as they walked out and knew I was right. Read more...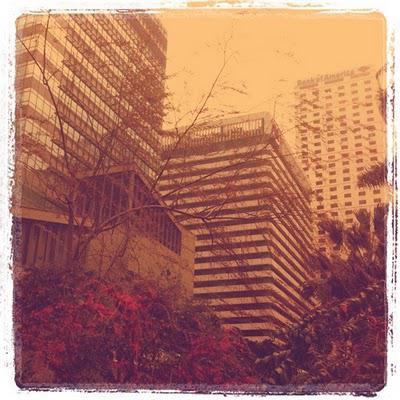 Taken While Walking at Central

That very Saturday was when the Peak Tram opened after renovation work, so I had taken note of this beforehand. A return tram ticket would cost HK$35, but a Sky Pass that included entry to the Peak Tower costs HK$56, or HK$50 for MTR Travel Pass coupon holders.
The Peak Tram runs every 15 minutes to the upper terminus. The steep journey took 8 minutes per way. At the Peak Tower, we saw a 360-degree view of Hong Kong, from the calm Victoria Harbour to its bustling high-rise estates. The view, accompanied by a cold morning breeze, is breathtaking.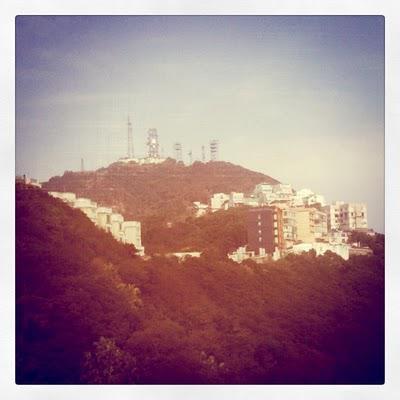 One of the Most Expensive Estates in the World at the Peak
Back at the lower terminus, we took a special Citybus back to the proximity of the Star Ferry pier. This is where we waited for Citybus 629 that took us directly to Ocean Park in Aberdeen for HK$10.60. While waiting for so many minutes for the next bus, I had siau mai and beef ball, at HK$6 each, for breakfast.
Day 3.2. Ocean Park
Ocean Park is around 40 minutes from Star Ferry pier, including the brief stop in Admiralty. Regular admission costs HK$250 or HK$225 with a coupon from the MTR Tourist Pass. Bags aren't checked, and we were able to "smuggle" bottled water and canned softrinks inside. It was a rather wise decision to bring drinks, as drinks were highway robbery and priced similarly to Disneyland. It was a Saturday, and there were lots of people, mostly in tour groups.
Ocean Park recently opened Aqua City in the lower zone of the park called The Waterfront, where a recently-opened Grand Aquarium welcomed guests as they enter the park. The aquarium showcased sharks and the largest jellyfish I've seen, among a plethora of marine life swimming in impressive dome aquariums.
Next stop was surely a highlight of the entire trip as I was finally able to see a live giant panda at the Hong Kong Jockey Club Giant Panda Habitat. Lucky for us, a panda was awake and feeding when we went in. Thereafter, it was time for a brief sea lion show, which you could skip altogether, since the wait is longer than the show itself and sea lions are featured on Sea Dreams anyway.
An Ocean Park visit won't be complete without a ride to The Summit by Cable Car. Mom was too spooked by the idea of the gondola suspended by a cliff as it increased altitude. The view of Hong Kong is so impressive.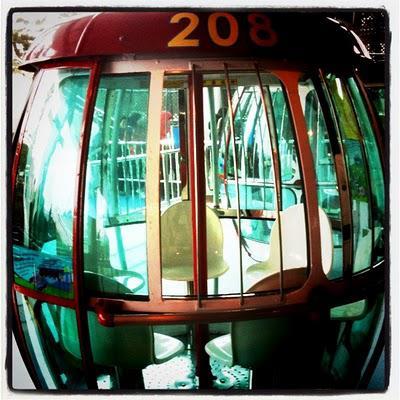 A Cable Car at Ocean Park
After a late lunch of Chinese-flavored Golden Chicken, fries, and soda for HK$55, my siblings and I went to try The Dragon, a roller coaster with three loops. I thought it would have been notches better if the top speed were faster. We tried more rides, such as The Abyss and the Mine Train, which I found more thrilling than The Dragon. Then later in the afternoon, we got to catch Sea Dreams at Ocean Theatre, a show that features talented dolphins and other marine life.
We had more rides, such as the Space Wheel and the Raging River, both of which had no queue at all. By 7pm, we were finding our way back to The Waterfront via the long series of escalators, the second longest globally after the Midlevel Escalators in Central, Hong Kong. Back at The Waterfront at 7:30pm was Symbio, a grand synchronized lights, fountain, and fireworks show.

As an afterthought, Ocean Park is indeed renovating to keep up with rival Disneyland. Unfortunately, their rides obviously had seen better days and lacked the thrill we wanted. Ocean Park also needs to work on their ambiance. I just don't know if I'm writing this because I went to Disneyland the day before.

Day 3.3. That Lucky Golden Ticket to Tim Ho Wan
Right after Ocean Park, we were supposed to meet our uncle, who is based in a wealthy but remote resort estate in the New Territories. We met with him near our hotel, and with no time to fix ourselves, we headed directly to a building full of electronics in Mongkok. I've been there two nights before, and right there and then, I remembered that near this building is Tim Ho Wan.
I got to know about Tim Ho Wan, through the blog Just Wandering by my most favorite travel blogger, Nina Fuentes. While I was reading Nina's entries about Hong Kong, I took note and researched about this hole-in-the-wall dim sum restaurant in Yau Ma Tei. Well, it's not just a place that served dim sum. Tim Ho Wan currently holds the distinction of being the most affordable holder of the Michelin star rating. It is owned by Mak Pui Gor, former dim sum chef of Lung King Heen, a three-star restaurant at the Four Seasons Hotel.
As luck may have it, the Korean buffet my uncle brought us was full, so everyone had to wait outside to be seated. I told them I'd take a little stroll, but I already had Tim Ho Wan in mind.
After familiar turns, I saw the place I went to two nights before. I did attempt to get in on our first night, but at 9:45pm the chef himself told me that they were sold out. I was there at 9pm that time around, so I pushed my luck and got that yellow ticket, the menu in English.
Two formidable old women took turns in going out to arrange the queue outside the restaurant. I literally looked lost, as I didn't know where to queue or how to get a number. A local Hong Kong couple saw the lost look on my face and so helped me talk to the woman at the podium. At this point, I felt like the odds were against me, since I caught wind that the last guests would be seated at 9:30pm and everyone outside will be asked to go back tomorrow. The couple asked where I knew about Tim Ho Wan, and they shared that in the seventeen years they've been living in Hong Kong, it was their first time there. They, along with four other local and foreign couples, were outside waiting for as much as half an hour. Reading around suggests half an hour wait is lucky; waits are longer during peak hours.
By 9:15pm, my fortune seemed grim. I still didn't have a number. The couple said I should come back tomorrow, but I said it was my last night in Hong Kong, and only God knows when I will be back to taste these dim sum. After three minutes, I mustered courage to walk up to the woman and get myself a number. I noticed that my number says "2" to denote two diners. 
Five minutes later, the story takes a surprising spin as one of the old women goes out to let people in. I approached her to clarify that I was dining alone, and lo and behold, she calls out "one" and gestures me to come in. I won't lie about the unexplainable excitement I felt, and I absolutely saw the astonishment from the people behind me as I entered the door.
I knew my family were waiting for me, so I hurriedly gave out my yellow ticket that said two orders of three char siu bao or baked BBQ pork buns for HK$14 and an order of three beef ball on bean curd wrap for HK$12. A little under ten minutes later, I was able to taste the famed char siu bao. The heavenly sweet bread accentuated the flavor of the char siu or glazed pork. On the other hand, the beef balls were so light and tasty. I originally had the plan of just ordering takeout, but Tim Ho Wan does not allow such, so I just asked for styrofoam boxes to put my leftovers in. For HK$40 and HK$2 for tea, I had a Michelin-starred meal.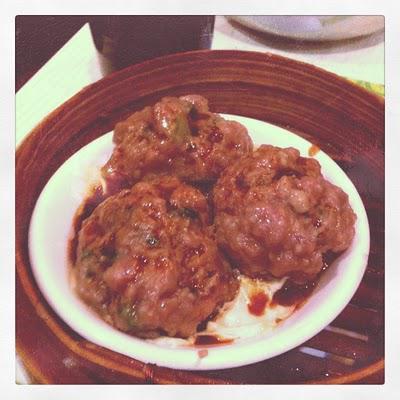 Beef Ball on Bean Curd Wrap from Tim Ho Wan
I hurried back to the Korean buffet and profusely apologized for taking too long out. The Korean buffet cost HK$153 and gives free reign on all the meats, vegetables, and other sides for Korean BBQ. While I had two char siu bao and a beef ball already, I still dug onto the tastiest Korean pork ribs I've tasted for a while.
But of course, that Tim Ho Wan side trip and all that luck I had to get in were the highlight of my night.
Day 3.4. Central Nightlife Part 2
As we returned to the hotel, I immediately took a shower and put on my coat. I returned to Lan Kwai Fong at Central to not only see but experience the nightlife this time. The Saturday night crowd did not fail me, as it was as loud as the night before. As I went into one of the bars, the language barrier, in addition to the loud music, prevented me from getting myself a fake cocktail. By fake cocktail, I mean a tonic and lime, because I'm allergic to alcohol. A Singaporean couple saw how I was having a hard time at the bar, so they bought me a Tsing Tao Beer. As usual, I had to fake sip the beer, since I can't bear a week of itching.
After exchanging pleasantries, the couple and I shared our Hong Kong experiences, from shopping to how cold the weather was compared to humid Manila and Singapore. After an hour of cross-cultural conversation, I had to say goodbye to my new friends and take the MTR back to the hotel. That ended my interesting night at Central and my taste of Hong Kong nightlife.
Related Post: Hong Kong-Macau with Only an iPhone Camera (PART 3)