Included in this day: 
The Ping Shan Heritage Trail in the New Territories, 
A Walk Through Nathan Road and Thoughts on Hong Kong Democracy, 
Hong Kong Disneyland Resort, and 
Central Nightlife Part 1
Day 2.1. The Ping Shan Heritage Trail in the New Territories
March 4, 2011
Even with little sleep, I started my day early to respond to tweets and get prepared for my early morning journey alone. I got out around 6am and got to catch one of the first trains to Tin Shui Wai of the West Rail Line. That morning, I was about to do the Ping Shan Heritage Trail, the first one in Hong Kong. With an unlimited MTR Tourist Pass and a Vitasoy milk carton in hand, I was ready to explore west of the New Territories.
I knew about the Ping Shan Heritage Trail when I was browsing the MTR website. I downloaded these MTR-friendly tours by Dr. Patrick Hase, an Honorary Adviser to the Museum of History. These tour materials give directions with MTR stations as reference points and take two to four hours to complete. The Ping Shan Heritage Trail highlights structures built by the imperial Tang clan of China. The trail includes the Tsui Sing Lau Pagoda, Shrine of the Earthgod, Sheung Cheung Wai, Yeung Hau Temple, Tang Ancestral Hall, Yu Kiu Ancestral Hall, Kun Ting Study Hall, Ching Shu Hin, and Hung Shing Temple. Each of these was built at least a century ago and has been impressively preserved by living Tang clan members and the government. Should you really want to immerse yourself in Tang culture, be sure to visit after 9am as most of the structures open by then. Please note that these are private property after all, and as a matter of common courtesy, respect should be upheld at all times, most notably at places of worship. Read more...JY5QFWNU4HAB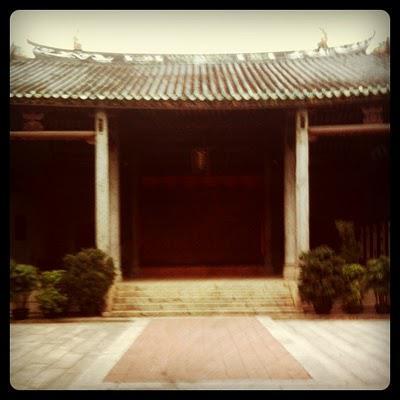 An Ancient Courtyard inside the Tang Ancestral Hall
As soon as I got off at Tin Shui Wai, I immediately felt an eerieness to the place. It didn't help that it was a frigid, foggy morning and that there weren't many people around, say one or two people at a time, despite it being almost rush hour on a heavily-dense residential town. I wanted to back out as sequences of suspense films flashed in my head but couldn't, since I thought I traveled around 50 minutes to get to here. I was compelled to continue.
I worked the trailed with images of zombies still in my head. But I then realized I wasn't just doing the trail, instead I was imbibing myself in the Hong Kong tourists see little of. I saw children going to school in their sweaters, an old man and woman stretching and brisk walking by a temple, and men and women ordinarily going to work. It was the daily grind of rural Hong Kong, far from the neon lights of Nathan Road and the glitz and the glamour of Central.I finished the trail in an hour since most of the trail isn't open that early, yet I did appreciate the meticulous architecture of the Tang clan. Luckily, the Tang Ancestral Hall was open, so I got to pop in. I was, however, creeped out by the fact that I was alone in an ancient courtyard dating back to 1273, so I had to go out before an imaginary ghost welcomed me. After walking some more, I found myself back to Tin Shui Wai MTR station and got back to the hotel not cannibalized or mutilated by the zombies in my head in any way.Day 2.2. A Walk Through Nathan Road and Thoughts on Hong Kong DemocracyMuch to my dismay, my family wasn't prepared to get out at the planned 9am departure from the hotel. As a sign of rebellious protest, I went down and walked along Nathan Road and found a Chinese bakery that sold Portuguese egg tarts for HK$4 and small pulled pork tarts for HK$3.50. I got one each, even though I had a chicken curry pie and another egg tart from a bakery in Mei Foo already. I walked towards Jordan and concluded that Nathan Road is more abuzz with activity at 9pm than 9am. An interesting sight would be the queue outside the Kowloon Birth Registry where there were people carrying infants. I wondered what happens to these babies when the Sino-British Joint Declaration of 1984, which guarantees the same liberties under British rule for at least 50 years after the handover to China, does not hold anymore. I wondered if after 2047 or 50 years after 1997, they will have some of their rights under Hong Kong's Basic Law curtailed or modified by the communist people's government. Right now, as I watched the news, Hong Kong citizens freely hold demonstrations against the budget of the government and the lagging housing entitlement scheme. In 36 years, would Beijing still allow them or will the then China premier revoke Hong Kong's Special Administrative Region status? Obviously, only time can tell, and as a foreigner from a democratic country, where even sometimes democracy is abused, I could only wish that their democracy and rights be preserved.Day 2.3. Hong Kong Disneyland ResortI walked back to the hotel, and to my relief, the family was dressed up and almost ready to go. We were headed towards Sunny Bay MTR station in the Tung Chung Line, the interchange for the Disneyland Resort Line. Yes, we were headed to one of the happiest places on Earth, Hong Kong Disneyland Resort in Lantau Island.When you say Disneyland, even the small details should have a Disney touch. The MTR to Disneyland had Mickey windows, and the coaches had encased metal figures of Disney characters. Apparently, the train ride is part of the experience.thelostboylloyd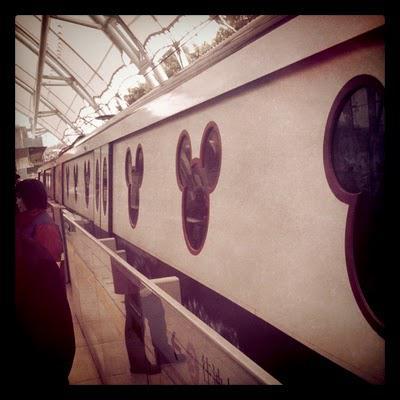 Coaches of the Disneyland Resort Line MTR
We did the right thing to have bought these MTR Tourist Passes as we were given coupons to the most popular tourist spots, with Disneyland being one of them. With our coupon, HK$30 was deducted from the ticket price, bringing the price down to HK$320. As we entered the park, the huge Mickey Mouse hedge welcomed us. It was the start of a magical day!
thelostboylloyd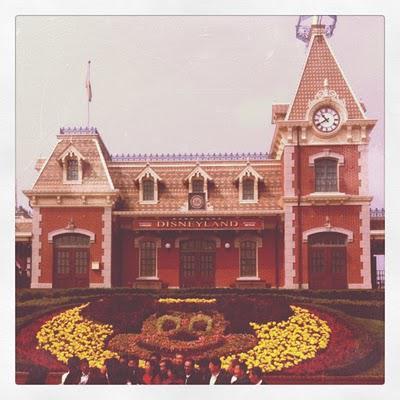 The Famous Mickey Mouse Hedge
After a walk along Main Street USA, we rode one of the most aggravating kid rides, Mad Hatter's Tea Cups. I hate how it's slightly nauseating, and I hate it more for pleasing my 16-year-old sister, who then wanted a ride at Cinderella's Carousel. I firmly said no.
thelostboylloyd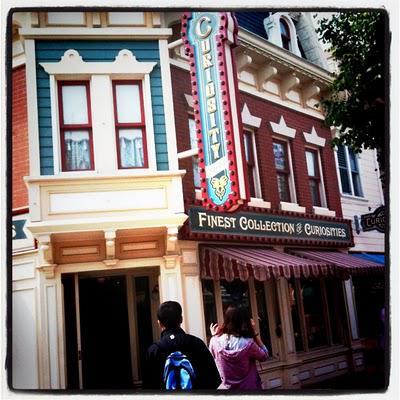 A Replica Building at Main Street USA
After a ride at the elaborate It's a Small World and the thrilling Space Mountain, it was time for lunch. Meals at Disneyland were affordable, to say the least. A Beef Burger with Cheese meal, complete with fries and drink, at Starliner Diner set us back HK$58, while a two-piece Fried Chicken meal was at HK$64, also with fries and drink. Sure, back in Manila, you wouldn't pay that much for quick service meals, but you don't convert everything into pesos when you're in vacation. We expected to pay more for food, actually. 
thelostboylloyd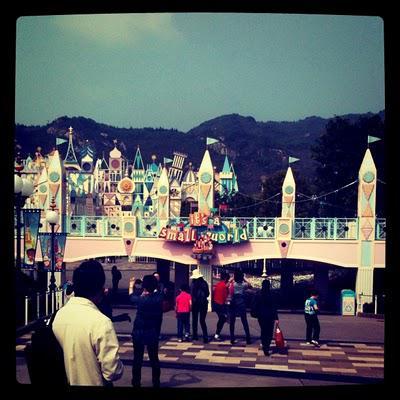 The Very Elaborate It's a Small World
Save for Autopia and The Many Adventures of Winnie the Pooh, there were no lines, or if there were, they only took less than ten minutes. It was a Friday and the only ones there were school tour groups and foreign tourists, mostly from mainland China. Speaking of mainland Chinese, it's rather interesting that Disneyland had three translations everywhere: Cantonese, Mandarin, and English. Jungle River Cruise had trips in those three languages, and I had to stop myself from thinking it was racial segregation.
While Hong Kong Disneyland only had a limited number of rides, it wasn't to be outdone in the most elaborate shows. First one we saw was the Festival of the Lion King and then Stitch Encounter, which, surprisingly, my parents liked a lot. On the other hand, Mickey's PhilharMagic is an impressive 3D animated musical with water sprinkle effects. But the highlight was The Golden Mickeys that presented a number of favorite Disney characters live on stage in a musical. While the songs are in English, note that the speaking dialogues are solely in Chinese, so you might want to get a seat towards the right side of Storybook Theatre to see the English "subtitles."
thelostboylloyd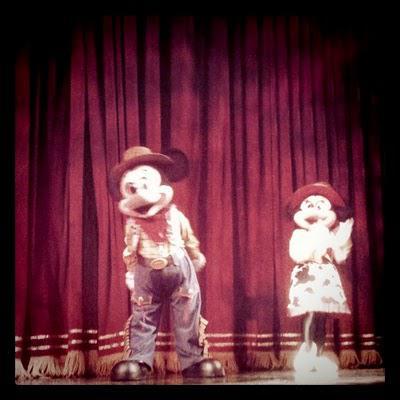 Mickey and Minnie from The Golden Mickeys
By 3:30pm, throngs of people gathered within the vicinity of Sleeping Beauty Castle for the grand Flights of Fantasy parade. Live Disney characters in their floats passed by, accompanied by lively performers, a lot of whom were Filipino. The whole parade was so exciting, and I felt like a kid again. That's Disney magic, right?
thelostboylloyd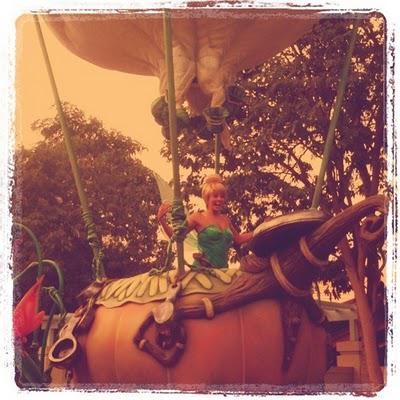 Tinkerbell from Flights of Fantasy Parade
After more rides, shows, a lesson on animation at Animation Academy, and a HK$20 Mickey Mouse ice cream, 7:15pm marked the Tinkerbell Castle Illumination in celebration of Hong Kong Disneyland's fifth anniversary year, with pixie dust "sprinkling" all over Sleeping Beauty Castle. We then had dinner at Clopin's Festival of Foods, where I had a Wuxi Pork Ribs bowl for HK$54. After dinner, we had a last raft trip to Tarzan's Tree House.
thelostboylloyd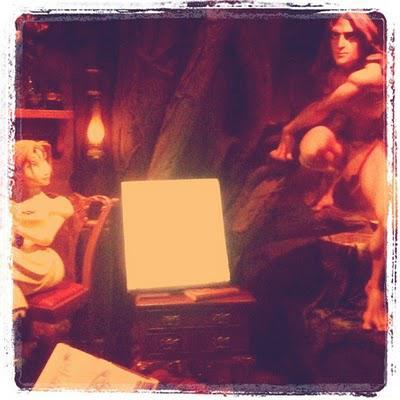 Tarzan and Jane at Tarzan's Tree House
The grand finale came at 8pm, where everyone gathered once again near Sleeping Beauty Castle for the amazing Disney in the Stars Fireworks. With that, our magical day at Hong Kong Disneyland Resort ended with a smile.
thelostboylloyd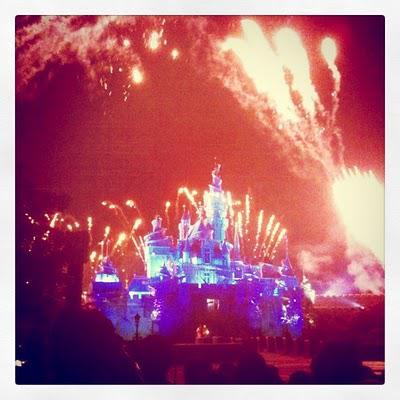 Sleeping Beauty Castle Illuminated by Disney in the Stars Fireworks
Day 2.4. Central Nightlife Part 1
As usual, my parents and siblings got in at the hotel after Disneyland. I'm 20, and it was a Friday night. I had the urge to at least go out to coffee and people watch, but I wanted to see more.
I took the MTR to Central, which isn't a wise thing to do unless you have an unlimited MTR pass. From there, I just walked and walked until I found this place called Lan Kwai Fong. I've read about it before and I didn't expect it to be this wild. People, most notably British expats, were getting drunk outside 7-11's and along the streets. Lan Kwai Fong is like one huge street party, only that the partygoers were dressed in suits. To your left and right, you'd see bars, pubs, and the snootiest member's only clubs. Unfortunately, the MTR runs only a little before 1am and I was clueless about the cross-tunnel buses that ran service back to Kowloon, so I had to go back to the hotel with no alcohol in my system.
Back in Mongkok, the Wuxi pork ribs felt like a year ago, so I decided to buy McDonald's. A Big & Tasty meal with medium fries and drink costs HK$27, which isn't far from what you'd pay for a burger meal in Manila. Got in at almost 2AM, and I already knew the next day would be just as long.
thelostboylloyd
Related Post: Hong Kong-Macau with Only an iPhone Camera (PART 2)