As a preface to this long series of texts and photos, I'd like to ask for your understanding as I initially feature two international destinations. Sure, my blog will focus on Philippine destinations almost entirely in the future; however, as the common saying goes, "Strike whilst the iron is hot." I found myself excitedly writing in rich detail our family adventure in Hong Kong and Macau just this month. I hope you enjoy!
thelostboylloyd
Outbound flight: CEBU PACIFIC AIR FLIGHT 5J 150 CRK-HKG
Inbound flight: CEBU PACIFIC AIR FLIGHT 5J 363 MFM-MNL
Day 1. The Concrete Jungles of Hong Kong
March 3, 2011
Touchdown at Hong Kong International Airport (IATA: HKG) was seamless. As soon we were done at the kilometric but efficient queue of immigration then baggage claim, our path led us to the ticket booth of the Airport Express. We bought our one ride Airport Express plus three-day unlimited MTR Octopus card for HK$220, with HK$50 as deposit. We then proceeded to the express train, the interior of which feels like a roomier version of an aircraft cabin, complete with luggage racks. I have to say our Airport Express journey, which took a mere 24 minutes to Hong Kong station in Central district, was the best train ride I've ever had. We finally boarded the Tsuen Wan Line to Yau Ma Tei station where we checked in at Casa Hotel. This line proved to be most important to us as it had an exit a minute from our hotel and it took us to Central in seven minutes train time. Read more...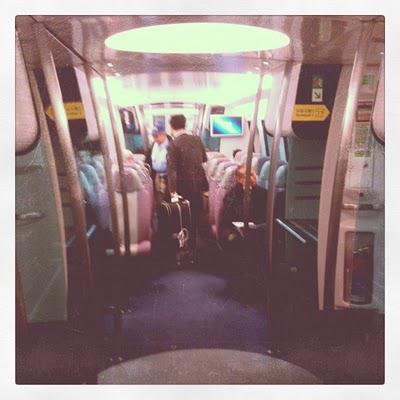 Interior of the Airport Express
Land prices are exorbitant in Hong Kong, hence this explains how densely populated Hong Kong is and how small our room was by Western standards. I even joked that our room didn't have a toilet and bath but rather a shower corner. We didn't mind since we'd be out all day anyway. What we did mind, however, were the three-prong electric outlets that were standard throughout Hong Kong. Unfortunately, the hotel only provided one adapter each room, which clearly wasn't sufficient for gadget-savvy kids like us.
After settling in, we went down to Nathan Road, where our hotel is located. We explored around the area and had our first lunch at KFC. A meal at KFC would set you back around HK$25-35. The roast chicken and mashed potatoes were good and the Original Recipe chicken was, well, original. One caveat though: they don't serve gravy but only Heinz ketchup packets.We continued walking around Mongkok and found our way to Ladies Market, an early afternoon to midnight street market with clothing and a lot of imitation goods. We found the prices geared towards tourists and more expensive than what you would pay back in Manila. And they're not too giving when you bargain, well not to us anyway.A lucky, unplanned turn took us to the mother lode: Langham Place. And surprised I was. Those two distinct red letters separated by an ampersand appeared magnificently in front of the mall: H&M. My little sister and I were like kids in a candy store. Bought some stuff and explored the mall with my little brother. Where else can you see a mall with some 15 floors? That's the very characteristic of malls in Hong Kong: not as sprawling as the malls in Manila but built on skyscrapers.Thanks to our unlimited MTR Tourist Pass, we found our way to Causeway Bay in Hong Kong Island, which according to Frommer's is where the locals shop. The moment I went up from the subway MTR to street level, I immediately marveled at how bustling this place is. You've got huge stores everywhere and you'd immediately notice that this area, indeed, is more for the locals than tourists. We got to see the market along Jardine Crescent and encountered dai pai dongs or hole-in-the-wall places that served noodles and rice bowls. We had tasty and surprisingly mild beef ball and brisket noodles, good to share, for HK$23. Only then we found our way to Times Square, a famous mall within the vicinity. I got to shop, however, at this nearby building called Lee Theatre Plaza that housed Uniqlo and Muji.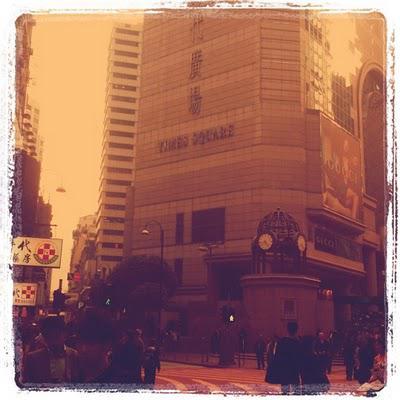 Times Square in Causeway Bay, Hong Kong Island
Time flies fast when you are having fun looking around and by before 6pm, we were finding our way to Hong Kong's oldest mode of transportation, the trams. These trams, which cost HK$2 no matter the distance, trace their roots early into the state's modern history and, with progress, are being threatened into extinction. They go east to west and vice versa along Hong Kong Island.
We alighted at the wrong stop and found ourselves lost in Wan Chai district. There we saw shops  that sold factory seconds, so it wasn't too bad. We got back to a tram and counted our way to the right stop in Central. A local was kind enough to lead us to the Star Ferry terminus, which was a long walk from tram stop 56W. We were led into the first class deck of the Star Ferry that took us to Tsim Sha Tsui. By first class, it meant "splurging" HK$2.50 on weekdays or 50 cents more than what we'd pay on the lower deck. What I've observed on the first class deck were foreigners dressed elegantly in their business suits and coats. Well, I wasn't to be outdone in my Zara Man trench coat anyway.The chilly "cruise" along Victoria Harbour took around 7 minutes, including docking. At the Tsim Sha Tsui Pier, we were welcomed by a tall clock tower of what was then the Kowloon-Canton Railway, a landmark that was a vital installation back in the day when the British traveled by train to Hong Kong for a month. We continued to walk outside the pier and found the viewing deck in front of the magnificent Hong Kong Cultural Centre. In the viewing deck, we watched A Symphony of Lights that runs once a night at 8pm. This light show definitely would have been better with a clear sky.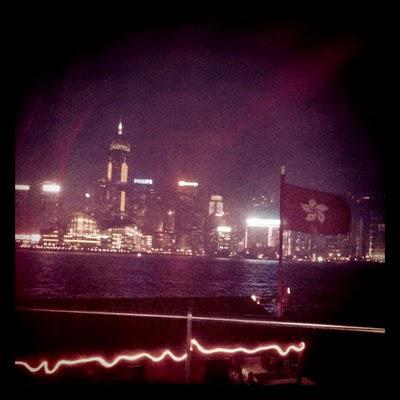 Magnificent Victoria Harbour on a Foggy Night
With my hands frozen and lips chapping, we walked through a foggy Victoria Harbour, along the Avenue of Stars, where you could see hand prints and statues that pay homage to well-known Hong Kong celebrities like Jackie Chan and Bruce Lee.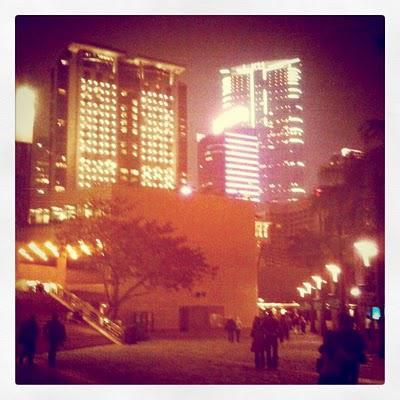 Along the Avenue of Stars in Tsim Sha Tsui
We ate a late dinner at a dai pai dong near our hotel, and I had a decent BBQ pork bowl for HK$23 and a glass of cold Horlicks for HK$5. My parents and siblings decided to retire at our hotel right after dinner, but I ventured out alone along the streets of Mongkok for a late night stroll. I shopped at Temple Street Night Market, which is open until midnight.
thelostboylloyd
Related Post: Hong Kong-Macau with Only an iPhone Camera (PART 1)