by Brandon Baker / Eco News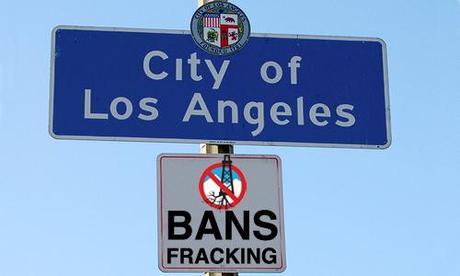 Los Angeles is the largest city in the U.S. to place a moratorium on fracking.
City council unanimously voted Friday afternoon to send a moratorium motion to the city attorney's office to be written as a zoning ordinance. It will then return to council for a final vote.
Friday's motion places a moratorium on fracking and other "well stimulation" practices at drilling sites until the city verifies that fracking does not compromise residents' personal safety or the drinkability of their water. That could come in the form of state or federal regulators providing protections or declaring fracking to be safe. Who knows when, if ever, that will take place.
The vote also makes Los Angeles first oil-producing city in California to ban fracking technologies.
"We congratulate the Los Angeles City Council for supporting the L.A. fracking moratorium motion, a strong step toward protecting the people of Los Angeles from severe health and environmental impacts," said Adam Scow, California's director of Food & Water Watch. "We urge the city attorney to stand by the motion's strong language and set a powerful and positive example for other communities and Gov. [Jerry] Brown, who should immediately enact a statewide moratorium to protect all Californians."
Several organizations that traveled to Los Angeles City Hall Friday to witness the vote left feeling better about the city's future and air. For instance, the Esperanza Community Housing Corporation and the People Not Pozos campaign bussed about 50 residents.
"While state oil and gas regulators drag their feet on enforcing existing rules and taking adequate precaution for the health of our communities, rivers and ocean, L.A. residents suffer from what is already occurring at the nation's largest urban oil field and in communities throughout the city,"said Liz Crosson, executive director of Los Angeles Waterkeeper. "We don't know all of the chemicals oil companies are exposing us to when they frack in our neighborhoods, but we know enough to know we don't want them in our air or in our water."
To most in the state, the next step would be a ban throughout California. Since the launch of Californians Against Fracking in May 2013, more than 200,000 petitions have been signed urging Gov. Brown to ban fracking in California. Farmers, environmental justice groups, students and celebrities are among those advocating a statewide ban. However, some would like L.A. County to step up, too.
According to The Los Angeles Times, fracking, acidizing and gravel packing taken place in about 100 more wells in the county than the city. None of the city wells reported any hydraulic fracturing during that period.
Gary Gless, president of Citizens Coalition for a Safe Community, told the newspaper that the Los Angeles moratorium means little to people who live near Inglewood Oil Field.
"It wouldn't do much until the county steps up and does something," he said. "But I think it will put pressure on the county to do the right thing."