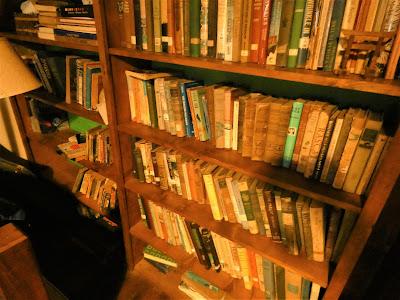 Continuing with my de-accessioning of books. So far, about ten good-sized boxes of books have gone to the library to be offered in their fall book sale. Assorted popular and classic fiction for the most part but now I've moved upstairs. That's where there's a whole wall of children's fiction which I'll clean but hang on to for Josie. 
And then the gardening books. Beautiful, aspirational books but at this point in my life, I'm not making gardens. So goodby to books like The Englishwoman's Garden, The Italian Rennaissance Garden (now that was a real flight of fancy,) and all the copies of Fine Gardening. I'm keeping some, and especially the more practical, but passing on quite a few--surely there are some garden dreamers who'll give them a home.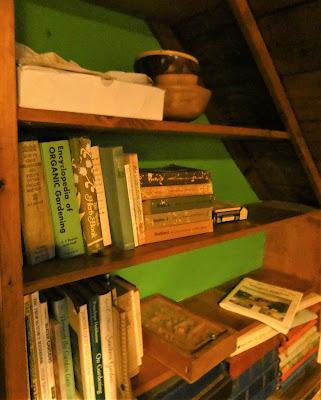 On Wednesday, with Josie's help to reach the lowest shelves, I addressed my sci-fi collection. In my teens, I was an avid reader of this genre and I have the paperbacks to prove it. Some I'll keep--The Martian Chronicles and Dune, but others--like all the spawn of Dune, all of which I found disappointing, are out of here. As are many paperbacks of vintage sci-fi. I hope they'll find a nostalgic reader or two.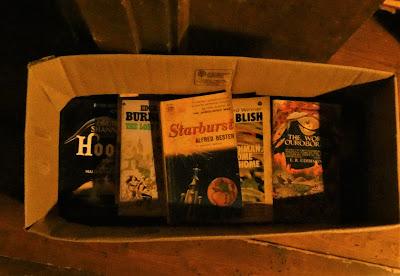 And then there's all the Heinlein. His YA books were early favorites--I just re-read and enjoyed Citizen of the Galaxy and Double Star. I won't get rid of Starship Troopers or Stranger in a Strange Land. Much of his later stuff will probably go in the box. And I found I had a copy of For Us, the Living, his first attempt at a novel, written in 1938-39, and published posthumously.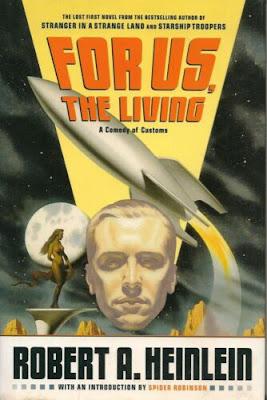 I don't remember reading it, so I gave it a shot. Yikes! As a novel, it's mind- numbingly bad-- a man is inexplicably thrown from 1939 to 2086 and people there are eager to help him understand what he's missed and the structure of the current society. It's nothing more than a device to allow Heinlein to theorize about the future--the state of the USA and the world in 2086. And to lecture on his idea of an ideal society. As Spider Robinson states in a foreword, the seeds for many of Heinlein's future novels are here.
Heinlein's vision of the future is always fun--and sometimes funny (he has folks on spaceships using slide rules.) But there was a bit in FUTL that caught my attention. In the world of this novel, in 1944, (remember, Heinlein is writing in '39) the Republican candidate for president is a Senator Malone, "a typical demagogue. . .red-faced and raucous" who ran on a "platform of blaming everything on Europe of the radicals."
"He called for the outlawing of the Communist Party, protection of the American home, and a return to rationalism in education which he defined as readin', 'ritin', and 'rithmatic and a particularly jingoistic patriotism. He advocated deportation of all aliens, laws to prevent women from holding men's jobs, and protection of the moral of the young."
Malone was elected and quickly moved to gag the press and to turn Federal agents into his own private army. Before midterm elections, he declared a state of emergency and martial law. . .
Sounds kinda familiar, though we dodged a bullet (so far.) 
Heinlein got a lot wrong, but he could sure write a playbook for a would-be dictator.