December Week 3: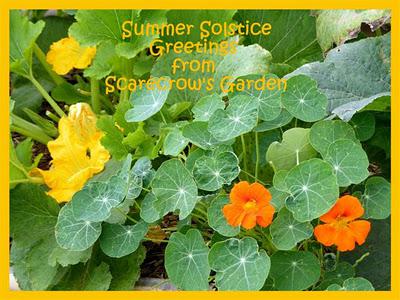 Summer Solstice Greetings 2011




Weather:


Over the weekend storms dropped 67mm of rain with 40 of that in about half an hour!!! Things got pretty wet but dried out quickly as the temperature rose through the week.


Propagation:

Seeds:


Lots of flowering plant seeds have been scattered around the edges of the garden after the rain.
Sunflowers
Marigolds
Cosmos
Buckwheat
Mustard


Potting on/up:


Scuplit
Lettuce Butternut
Miners Lettuce
Salvia
Mitsuba
Silverbeet


Cuttings:


Chilli Yatsufusa - according to this site has 75,000 heat units, they reckon Jalapeno measures only 5,000 heat units!!
Capsicum California Wonder
These hopefully will grow in pots for over-wintering in the hothouse next year.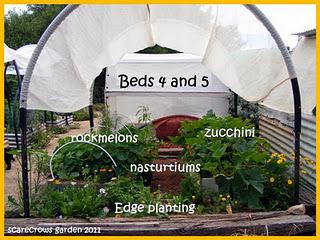 The Edge Planting at the end of beds 4&5 has come up well and is attracting bees under the shadecloth to the Rockmelons and Zucchinis with lots of flowers.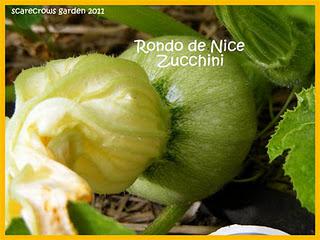 Although starting to show signs of humidity related problems (from all the rain!!) the Rondo de Nice Zucchinis are still producing delicious, round fruit almost daily!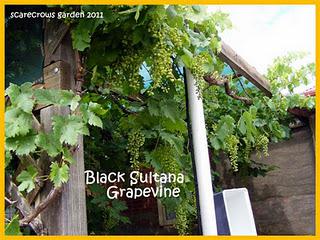 We are expecting a great Grape harvest this year...the rain has knocked the vines down from the top of the pergola but we have left them down to dry out properly. Most of the state was on a Downy Mildew Alert over the weekend but things have dried out well with gentle winds this week.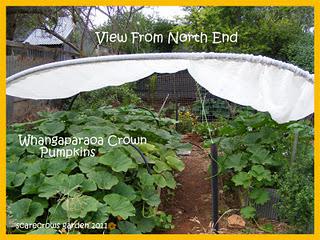 It's getting difficult to get around in the Old Chook Run with Pumpkins, Trombones and Squash growing wild there. Shade was attached on the weekend (more hail alerts!!) and as the temperatures are set to rise this week the main cover has been left in place.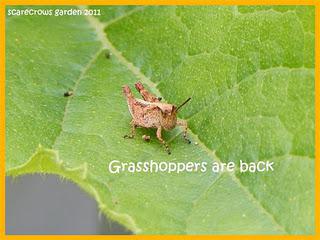 Grasshoppers are busy again this year like this little wingless grasshopper with occasional larger ones, they are quickly dispatched to the chook runs!!


Wishing everyone a Merry Christmas
and a Happy and Safe New Year...
...may your Garden Grow Great Food
for you all next year!