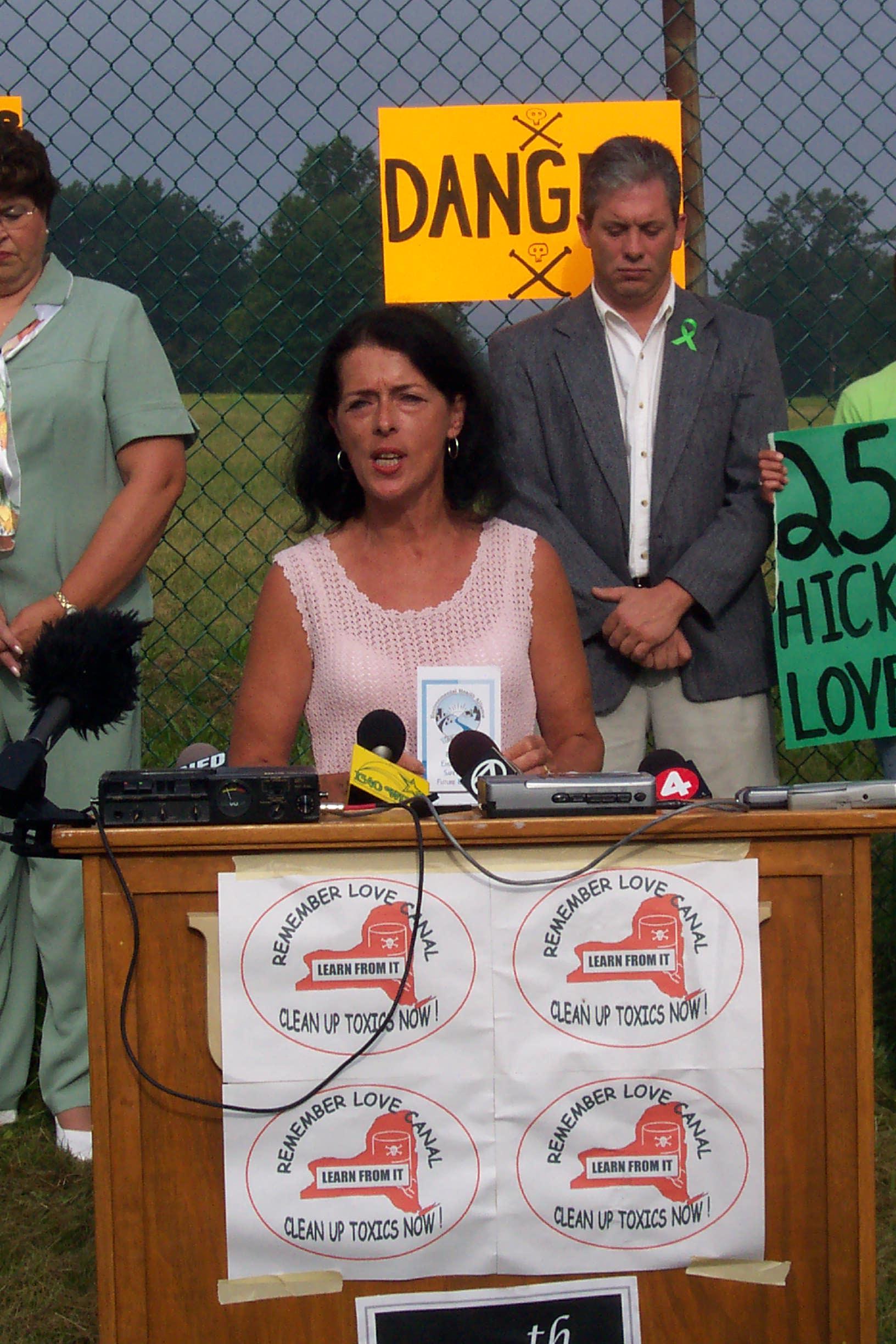 Cross Posted from Providence Journal
In 1978, Lois Gibbs took on the powers-that-be when she learned that her Love Canal neighborhood and son's school were built on a toxic waste dump. Her battle led to the evacuation of hundreds of houses, sparked a massive cleanup of the site, and inspired a made-for-TV movie and the creation of the federal Superfund program.
On Wednesday, 35 years later, Gibbs climbed the steps of Rhode Island's State House to join a protest against legislation that would weaken a law prohibiting school construction where toxic vapors could pose a danger.
SOMETHING HERE FROM RALLY
Several groups lobbied for the so-called "school siting law," enacted just last year, after Alvarez High School was built in Providence on the former Gorham Manufacturing property against their objections. The groups included the Environmental Justice League of Rhode Island, Clean Water Action, the Environment Council of Rhode Island and the Childhood Lead Action Project.
Under the existing law, contaminants whose fumes could penetrate a school would need to be removed. But if the law is amended, it would permit the use of engineered solutions that the activists oppose as unreliable and costly to maintain for taxpayers.
XX sponsored the bill after the Rhode Island Mayoral Academies ran afoul of the new law. Its enactment last year wants the halted efforts to turn the Red Farm Studios greeting card company property in Pawtucket into another Blackstone Valley Prep Charter School.
Gibbs's involvement in environmental causes began in 1978 when she discovered that her 7-year-old son's elementary school in Niagara Falls, New York was built on a toxic waste dum
National press coverage made Lois Gibbs a household name. Her efforts also led to the creation of the U.S. Environmental Protection Agency's Comprehensive Environmental Response, Compensation and Liability Act, or Superfund, which is used to locate and clean up toxic waste sites throughout the United States.[3]
In 1980, Gibbs formed the Citizens' Clearinghouse for Hazardous Waste, later renamed the Center for Health, Environment and Justice (CHEJ)
Her story was dramatized in the 1982 made-for-TV movie Lois Gibbs: the Love Canal Story, in which she was played by Marsha Mason.[6]