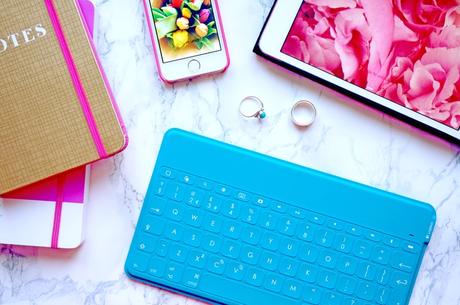 Now we are officially in Spring, this Logitech Keys-To-Go portable keyboard is the perfect addition to my handbag, providing a pop of color aswell as aiding my productivity. But more importantly...a portable keyboard = blogging on the go (...and in bed). Here are a few other features it has to offer:  iOS

® 

 keyboard shortcuts - As with laptop keyboards, I love the idea of the shortcuts however in reality there are only a select few which are really worth using. So far I've noticed myself only really reaching for the volume controls and skip forward/backwards.
Bluetooth® - Horray, one less wire to worry about! This simply connects by the flick of a switch straight to your iPad/iPhone. Just make sure you have your Bluetooth setting switched on and remember to turn it off after you've finished using it to save your precious battery. 
Rechargable 3-month battery - I think this may be the most impressive feature of the lot, with the promise of a 3-month long battery it sounds incredible considering I am used to having to charge my phone twice a day and constantly carry a charger around with me. I think this may even beat the tough competition on offer from my Kindle battery and I highly doubt my iPad or iPhone could even complete even a fraction of that. 
FabricSkin - When I ripped off the packaging during the grand parcel unveiling, the first thing I noticed was how unbelievably soft it was, The keyboard feels as if it's made from suede, and the keys themselves are incredibly bouncy and tactile. I followed Darren around for about 10 minutes trying to make him pretend type so he could see how nice the keys felt. After using the keyboard to write up a number of things I have noticed however that when typing fast it does make your spelling quite inaccurate as I'm not sure it can keep up with the fast WPM. 
I have never had a portable keyboard before but I have found myself reaching for it more and more.
This product was sent to me for review, however all thoughts and opinions are completely my own.