This make ahead Mashed Potato Casserole is full of cheesy bacon goodness. It is the perfect no fuss side dish for everyday or any of your holiday meals.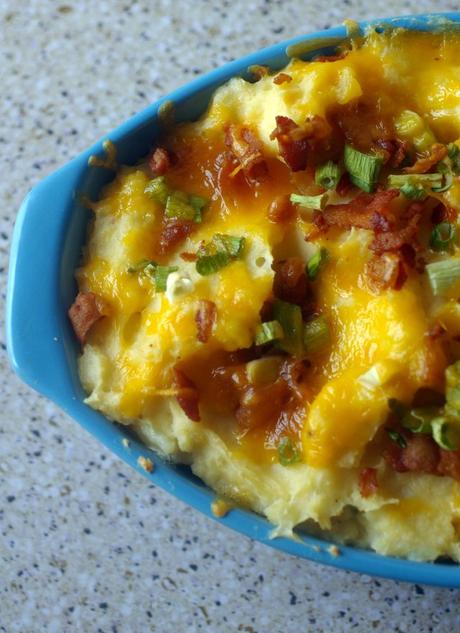 I made this casserole on Easter. I got a few photos and then promptly forgot about it. It is the nature of the beast, one of those things that happen when you get older.
Maybe I have been doing that all my life and now want to blame it on old age. Yes, I do forget a lot of stuff, but in my defense I am very busy!
Anyway this wonderful make ahead dish is perfect for a Sunday dinner or holiday meal.  This dish is not hard to make at all.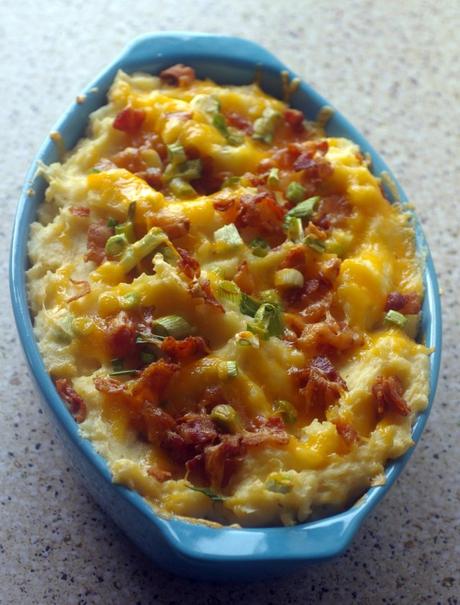 I had a hard time while cooking the bacon not eating it. I love bacon and could eat a lot of it. So if you are like me perhaps you should have a member of your family guard the bacon while you put this dish together. I do not need anything else to eat. This dish is a meal all by itself.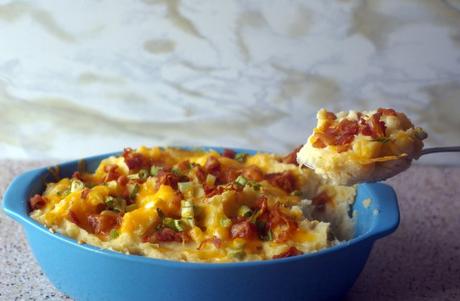 Print Recipe
Mashed Potato Casserole
Ingredients:
8 medium potatoes peeled and cut into 1 inch chunks
1 cup evaporated milk
1/2 cu sour cream
1 teaspoon salt
1/2 teaspoon pepper
2 cups shredded cheddar cheese
6 slices bacon cooked and crumbled
1 bunch chopped green onions
Directions:
Put the potatoes in a large saucepan and cover with water. Bring to a boil and allow to cook over medium heat about 20 minutes. The potatoes sound be tender. Drain potatoes.
Preheat your oven to 350 degreees.
Return the potatoes to the saucepan and add the milk, sour cream, salt and pepper. Mash potatoes until smooth. Stir in 1 1/2 cups of the cheese, 1/2 the bacon and 1/2 the chopped onions. Spoon mixture into a prepared casserole dish
Bake for 20-25 minutes or until heated thorough. Top with remaining 1/2 cup cheese, bacon, and onion. Bake for an additional 3 minutes or until the cheese is melted.