Operatoonity.com review: Living on Love, a new Broadway comedy in association with the Williamstown Theatre Festival
Live performance: Saturday, April 25, 2015; 2 p.m.
The Longacre Theatre, 220 West 48th Street, NYC
Written by: Joe DiPietro
Based on the play: "Peccadillo" by Garson Kanin
Director: Kathleen Marshall
4.5 out of 5.0 stars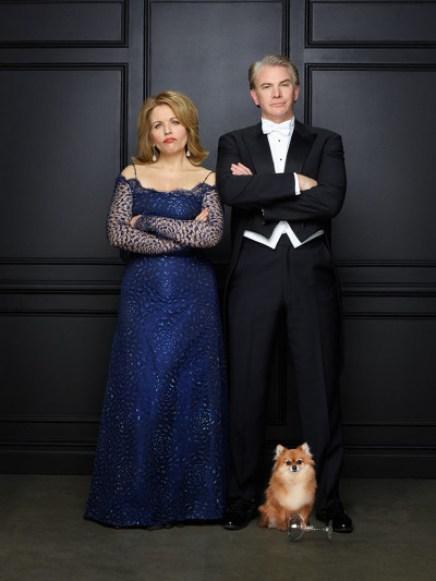 Fleming and Sills in #LivingonLove, a new Broadway show, with canine co-star Puccini
Maestro Vito De Angelis is a fiery egomaniac of a conductor with a wandering eye. Raquel De Angelis is a cunning operatic soprano who craves the limelight. The diminishing fortunes of this aging professional couple have reduced them to the prospect of living on love rather than basking in the wealth and fan adoration they enjoyed in their prime. The De Angelises' marriage is in dire trouble—and the audience loves every second of their suffering.
Opera fans will adore Living on Love. However, even the opera-uninitiated will also have a rollicking-good time, perhaps without fully understanding all the inside jokes: the La Boheme-inspired doorbell chime; the Tweedledum and Tweedledee-style butlers who like Patty and Cathy Lane (of Patty Duke show fame) laugh alike and talk alike, and even walk alike while warbling operatic snippets from opera war horses such as The Barber of Seville; Raquel's pet Pomeranian named "Puccini," who dons an over-the-top Aida headdress while lolling in the arms of her doting mistress.
Living on Love is one solidly clever comedy, full of endearing running gags and brimming with crack shot comic performances.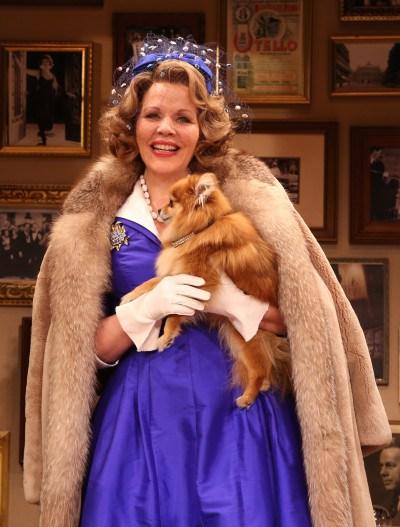 V Soprano Renée Fleming is utterly charming as fading diva Raquel De Angelis
The show is set in New York in 1957, during a time when Leonard Bernstein is becoming a household name, much to the consternation of the Maestro played with hilarious pomposity by Douglas Sills, whose once-shiny star is dimming with each accolade of rising supernova Bernstein. The play opens with a recording of Maestro's recollections slated for his memoir, including his confession that he made love to the entire humming chorus in Madame Butterfly though he has promised his wife, fading but still attractive enough to appeal to younger men, that his Don Juan days are over.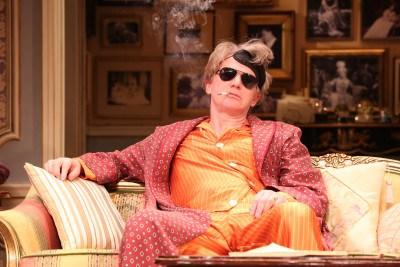 Douglas Sills as the Maestro, who claims to have made love to the entire humming chorus of Mme. Butterfly.
Maestro's resigned to writing his life story, sucked in by the prospect of a hefty advance more than anything, but his temperamental ways and indulgent lifestyle caused him to burn through a half dozen of the publisher's best ghost writers. As our story opens, Maestro's tormenting the next ghost writer Little Brown sent over, Robert Samson, played with masterful spinelessness by veteran actor Jerry O'Connell. When diva Raquel played by opera great Renée Fleming returns home early because her international tour is cut short, and because money is in short supply, she decides to write a memoir, too.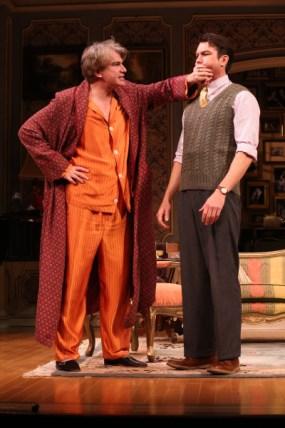 Douglas Sills and Jerry O'Connell
Let the games begin.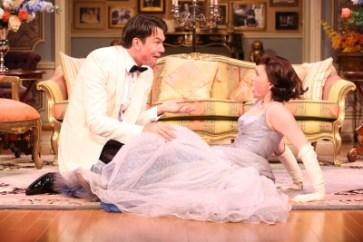 Jerry O'Connell and Anna Chlumsky
Raquel stages the seduction of O'Connell's gutless author for the sole purpose of enraging her philandering husband, who has laser-focused his libido on his new ghost writer, a spunky junior editor played with moxie by My Girl and Veep star Anna Chlumsky.
The legendary Fleming, America's reigning soprano, looked absolutely scrumptious whether adorned in Carmen's scarlet flounces or Kitty-Carlisle apricot chiffon, and endeared the audience by poking fun at her and her notoriously tempestuous ilk. The audience savored every note of the tiny bit of operatic singing she did during what is essentially a straight play that is merely music infused.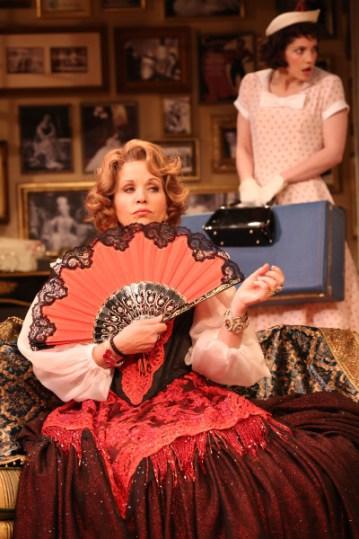 Renée Fleming, poised for seduction, with Anna Chlumsky
Fleming moves with elegance and grace–her presence fills a room. Her comic timing was surprisingly effective considering that she reigns the domain of operatic song. However, the actors cast around her were so stellar—pitch perfect delivery and expert comic timing at every turn—that she was at times outschooled by the Broadway veterans.
In this production, the men absolutely stole the show, from Douglas Sills' side-splitting running gags ("shiny boy") to his goofy hairstyles—whether coifed by maple syrup or inspired by Beethoven's 5th—to Jerry O'Connell (aka "shiny boy" himself), who gave an unforgettable performance as the tortured ho-hum American novelist.  How anyone can be so attractive bear-chested as O'Connell and still be painfully  insecure can only be a testament to his extraordinary acting skills.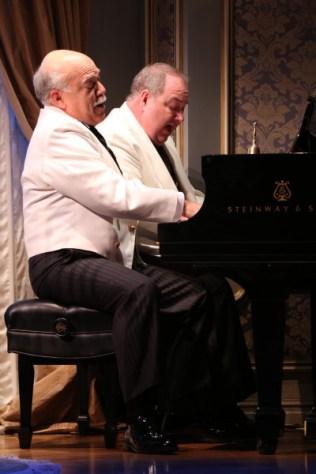 Scott Robertson and Blake Hammond (l-to-r) whooping it up while the bosses are preoccupied & "Makin' Whoopee"
Last but certainly not least was the comic duo of Blake Hammond and Scott Robertson as the stiff-upper-lip butlers who let loose when the master and mistress of the Manhattan pied-à-terre were otherwise occupied. Their "Making Whoopee" vocal and piano duet brought down the house. And there's nothing anyone can do about it.
All of the production values one expects to see in a Broadway comedy were in abundance—superior set design and décor, elegant costumes, inspired sound effects, foolproof jokes. Credit director Kathleen Marshall for instilling a winning esprit de corps among her troupe and mining comic touches and sight gags at every possible turn.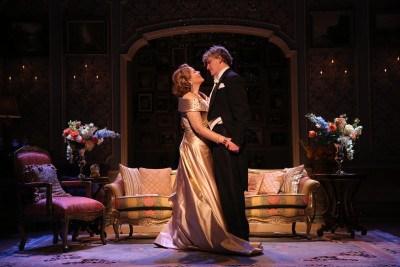 This is a charming show that succeeds without sequined roller skaters, creepy phantoms, or jaw-dropping sets flying in from the wings at warp speed. When it comes to Broadway, in this reviewer's humble opinion, superior comedic writing, solid directing, and great acting still trump spectacle.