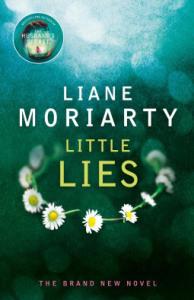 What's it all about?:
Top ten bestselling author Liane Moriarty returns with another gripping read.
She could hear men and women shouting. Angry hollers crashed through the soft humid salty summer night. It was somehow hurtful for Mrs Ponder to hear, as if all that rage was directed at her . . . then she heard the wail of a siren in the distance, at the same time as a woman still inside the building began to scream and scream . . .
When a harmless quiz night ends with an act of shocking violence, the parents of Pirriwee Public School can't seem to stop their secrets from finally spilling out. Rumours ripple through the small town, as truth and lies blur to muddy the story of what really happened on that fateful night . .
What did I think?:
Liane Moriarty first came to my attention with her fantastic book The Husband's Secret which I devoured in a very short space of time, therefore I was very excited when I heard about this new novel which is also published as Big Little Lies (not sure of the reasons behind this). Again, there are a number of different and very interesting characters to get your head around – Jane, a single mother who has recently moved to the area with her son, Ziggy after the break-up of a relationship, Madeline, outspoken mother of three who has her own issues with her ex-husband but a heart of gold and Celeste, beautiful mother of twin boys, who appears to have everything you could ever want, but again, as with the other women, nothing is as it first seems.
When the story begins, we know that a shocking incident has taken place at the local school on what was supposed to be a fun quiz night for all the parents to dress up, relax and get to know one another a little better. All we know in the beginning is that someone has died and the police are interviewing witnesses, so any information we get at this stage is small (and exciting) tid-bits that indicate the event was a culmination of factors stemming from an earlier incident involving one of the mother's children. The themes running through this tale include bullying, playground politics, the importance of friendship and family, the horror of domestic violence and the danger of exclusion and cliques. It turns out that adults are not above acting like children on some levels and indeed, that children learn from their parents what behaviour is right and what is wrong.
There are a multitude of layers to this story, which I loved, and with each chapter seems to come a new surprise or a new area of a particular character that is revealed. This is only my second Liane Moriarty novel, but I'm starting to recognise that along with a very strong and compelling plot-line her characterisation and moving prose is second to none. That is, even the minor characters felt strong and well thought out and I felt like I knew them all intimately. As a reader, this meant that when certain secrets came out, I felt more devastated than I thought I would be as I felt a connection between each of them. Aha, maybe this was what she planned for all along?! Well, I'm not embarrassed to admit she's hooked me. I shall definitely be dipping into her back catalogue now to see what other goodies I can find, and I can't wait.
Would I recommend it?:
But of course!
Star rating (out of 5):