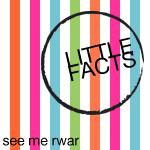 1. The Body - Bodies have really weird things. Like feet. I know you have to have them to walk, etc, but feet are nasty. Ew.
2. Peeve - I'm really peeved by people who don't think about those who might use something after them.  Leave it the way you found it, so it's ready for the next person.  But maybe I'm just really OCD...
3. Allergy - I don't really have allergies... I mean, I'm allergic to spring and fall like everyone else, but it only manifests as nasal congestion.  My dr. gave me some nasal steroids to make it go away and bam, no more allergies (it's amazing).