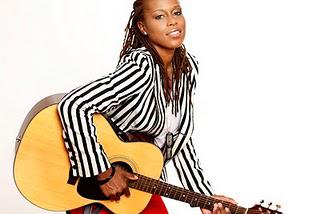 (photo courtesy of www.livehartonline.com)


Live Hart is an acoustic soul singer/songwriter. Her music speaks to you on a personal level yet draws you into her world. Here is what she had to say!
Q: Who would you consider your musical influence(s)?
A: There are so many. I would definitely have to say India Arie. She taught me how to express myself through instruments and music. I was in awe the first time I saw he perform live. I also like Bruno Mars and the direction he is taking everything. I love what he is doing right now.
Q: Are there any messages you are attempting to convey through your music?
A: Inspiration, to continue dream and let people know that they have the power to dream. I want people to go after what they want and go after whatever it is that drives them to wake up in the morning.
Q: What projects are you currently working on?
A: I'm still working on my album. I'm in the process of building a new EP that will hopefully be out this summer. I caught the acting bug last year so I've also been reading some scripts as well.
Q: You have opened up for a few big names. How was the experience and which one of those performances was your favorite and why?
A: It was great. And I'd have to say that my favorite was Monica. Her fans are amazing. She probably has the best fans on the planet. That was the biggest audience I'd performed for (800+) people. Those fans had all love and were very into my performance. I felt very well received.
Q: Would you compare yourself to any other artists in the industry now or in the past?
A: I couldn't pick just one. I'm more of a collection of a few. I've had so many different influences and performers that I love. I could be classified into different genres depending on who is listening to my music. It all depends on who is listening. But eventually someone will box me into a category but until then, it's all about how you take my music.
Q: What type of audiences do you prefer to perform for? Such as lounge settings, outdoor venues, etc. and why?
A: I don't really have a preference. As long as the audience loves hearing good, live music and appreciates live music, then I'm happy. It really doesn't matter where I'm playing at.
Q: What's the funniest moment that's happened to you while you were performing on stage?
A: This actually happened recently at a festival in West Palm. I was on stage about to perform my next song and I could not remember the name of the song! I had to look over at my guitar player and ask what the name of the song was. I was going to perform "Imagine" by John Lennon – who doesn't know the name to that song?! LOL.
Q: Was there ever a point that you thought of switching careers or has being a performer always been something you've wanted to do?
A: No, I've always loved music. It's been a way that I can express myself. I feel as though I have a gift that I've been blessed with. I need to follow my gift all the way through.
Q: Do you have any advice for aspiring artists?
A: Keep going, Keep going! Be fearless no matter what. Don't be afraid to step out the box and don't be afraid to email someone you think would never return your email. You never know what's going on on the other side. I've had great opportunities come from doing that.
Q: Anything else you want to share?
A: Come see me at the Florida Music Festival on April 8th. I'll be performing at a wine bar called Orlando Tastings. This is my second appearance at the festival and I'm excited to be coming back.