91 Flares
91 Flares
×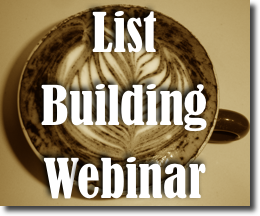 List building: we all know we ought to be doing it, but either we are dragging our feet or don't really know how to get anyone to actually subscribe.
Either way, the following list building webinar is for you.
My guest is Shane MeLaugh and he definitely delivered some of the best list building content I've even heard – bar none.
He'll share some practical strategies on creating the best optin forms and freebies to go with them, show real example of forms that don't work and how they could be changed to actually convert, plus several tools to build your email list.
Mentioned in the video
1. Color Scheme Designer
If you are not much of a web designer, you are in a good company – most bloggers aren't.
That's why Shane mentioned Color Scheme Designer – a free tool to help you choose the perfect contrasting colors for your next optin form or whatever else you are working on.
2. Aweber
Shane uses Aweber to power his email marketing, as do I.
Aweber makes it easy to start your list building for just $1 and will remain affordable as your list grows.
As a matter of fact, I don't think you can afford NOT to use Aweber or any other email marketing company of your choice. Just imagine all the money you are leaving behind by not having a responsive email list to tap into.
Most of my income from Traffic Generation Café does come from my email list – not my reviews, advertising, or any other means of promotion.
You can learn more about Aweber and how to use it in your business in my Aweber review.
3. Hybrid Connect
There are many list building plugins currently on the market and I've even tested most of the big ones, including MaxBlogPress Subscribers Magnet and WPSubscribers.
Some of them work better than others, but the one thing that most of them have in common is how difficult they can get to set up.
Sure they've got a lot of features.
But who cares if you can't figure out how to actually use those features, right?
That's where Hybrid Connect is so different.
It was created by Shane for his own websites because he couldn't find a list building plugin that was perfect for his needs.
Hybrid Connect is…
easy to set up (the very few settings are all explained in quick videos),
highly customizable for those who like to tinker,
comes with a great selection of pre-designed forms if tinkering is not your thing;
can be connected with any email marketing platform of your choice;
has be tested with most WP themes, including Thesis and Genesis;
is ready to fine-tune your list building through testing;
includes Facebook Connect option – the best one I've seen so far.
In short, it's a winner in my book.
Shane is offering a special discount for Traffic Generation Café readers as well: 20% to 35% off (depending on the license you get) for the next 7 days.
To apply your Hybrid Connect discount, simply follow this link.
Again, it'll be available to you for the next 7 days only – till Monday, April 22, if my calculation are correct.
Get your Hybrid Connect at 20% off here.
Side note: there's an upsell to Hybrid Connect as well – WP Sharely, another great plugin by Shane.
Take it or leave it, the choice is yours, but I do recommend you take it.
I've been testing it at Traffic Generation Café for the past few days and got a lot of social media shares to my brand new Bite-Size Traffic Hacks email series just by locking down my posts asking my readers to share the page before they can read further.
You can use WP Sharely in conjunction with Hybrid Connect to send social media shares and traffic back to your optin page.
The reason I am mentioning it here is because the best deal you can get on WP Sharely is as an upsell to Hybrid Connect.
Get both plugins for the best price here.
Have fun storming list building!