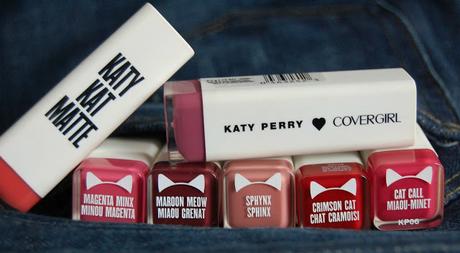 Hey Loves!
So........ how about these cute
Katy Kat Matte Lipsticks
???  Here's the thing, I looked everywhere for these lipsticks and couldn't find them. I was starting to think that
Katy Perry
fans were taking over the world and just going out and buying them all. Lucky for me, my two friends came through! The pictures in this post were taken on two separate days. So if the lighting looks a little off, you know why. Anyhow, lets get into this
Lipstick Love
post which is featuring the NEW collab with
Katy Perry
and
Covergirl
. I mainly rushed around looking for these pretty things because anything matte, I need in my life. 
The first set consisted of
"Cat Call"
,
"Pink Paws"
,
"Kitty Purry"
and
"Coral Cat"
(my favorite). Aren't the names the best? 
Check out the swatches below.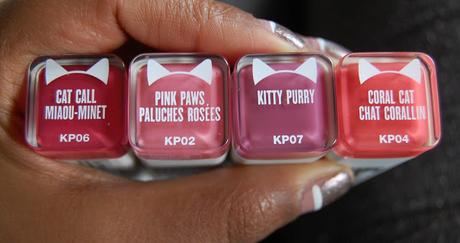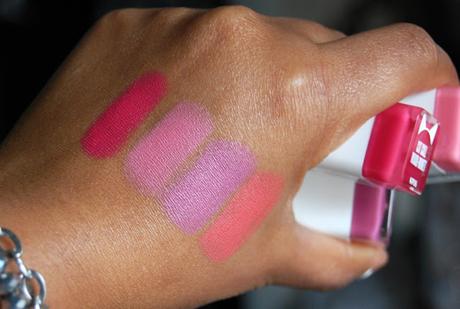 Top to Bottom:
Cat Call, Pink Paws, Kitty Purry and Coral Cat
________________________________
The second set of lipsticks my friend found at Target. She picked up five of them but somehow, I lost one in transit. Sad. I know. These colors were more my speed. The haul included
"Sphynx", "Crimson Cat", "Maroon Meow"
and
"Magenta Minx"
. But seriously aren't these names GREAT? 
Check out the second set of swatches.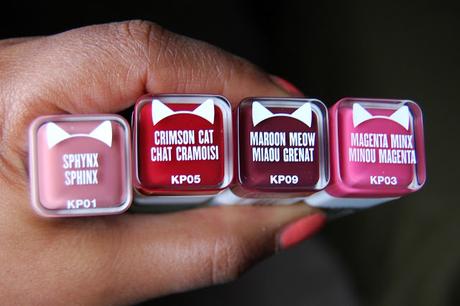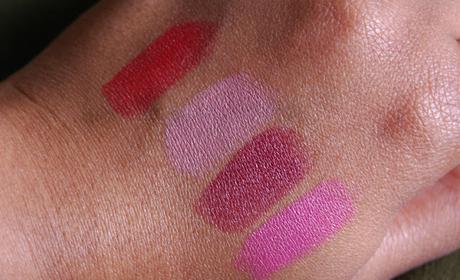 Top to Bottom:
Crimson Cat, Sphynx, Maroon Meow and Magenta Minx
So all in all some of the colors from the Katy Kat Matte Collection are gorgeous. The colors go on smooth and are buildable. I find that the lighter colors (Sphynx for example) worked better when layered with a liner underneath. They don't dry down to a full matte (that's my only issue). I would say that it's more of a satin finish. I had to reapply a few times throughout the day. The collection is worth stopping for and checking out. I mean, it's a fun collaboration if you're a makeup lover like me, we LOVE fun collabs. You can find these pretty matte tubes in your local drugstore for about $6.99 a piece. GO find your favorite Katy Kat Matte! Until next time....