HOLY CRAP, GUYS, I MADE IFB'S LINKS À LA MODE THIS WEEK! 
So cool!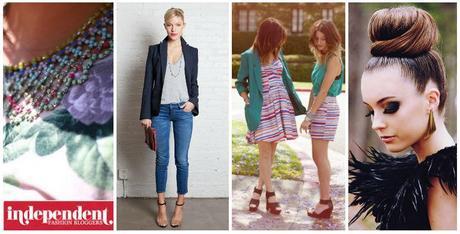 DIY Days of Summer
Edited by: Jess of Fresh Jess
The bloggers are taking it to the crafts these days! What better way to get your wardrobe ready for summer than breathing new life into what you've got? This week's Links a la Mode is chock full of quick & easy DIY projects for everything from crystallized shoes and Miu Miu-inspired clutches to top buns and accessories laced with neon. If getting crafty's not on your to-do list this week, don't fret. We've also got thoughtful posts on personal style, dressing for summer events, supporting local designers and blogger besties. These posts are getting better and better every week and it was hard to choose just 20 of them. Keep 'em coming!
LINKS À LA MODE: THE IFB WEEKLY ROUND UP: MAY 24TH
Aspiring New Moms: Summer in the Office
Barefoot Duchess: The Top Bun & How to DIY
Bon Vivant and a Budget: How to Host a Clothing Swap
Chic Cheat: Oh Miu Miu Stars
Fashion After Breakfast: DIY Pastel Collar Necklace
Fashion Love Affairs: 6 Free Ways to End Your Fashion Rut
Fashion, Well Done: Personal Style - A 5-Year Retrospective
FashStash: Support Local: Saloni Rathor
Finely Made: DIY: Lizzie Fortunato Scale Bracelet
Flounces and Slashes: DIY Swarovski Crystallized Shoes
I Have a Degree in This: Why You Should Take My Fashion Degree Seriously
My Confidence and Me: Introducing...(Melissa/For Fi Love, Me)
My Style Snapshot: Let It Be
Sea and Swank: What to Wear: Weddings
Stars For Streetlights: DIY: How to Make a Scarf Shirt
Style Over Sense: DIY Doorknob Hanger
The Average Girl's Guide: Vent Sesh: Consumption
The Style Safari: Thurs-DIY: Tropical Floral Tee
Tobruck Ave: BEfriends
Under the Cottonwood: Trends: Graphic and Bold Prints 
SPONSOR:
Spring Sale at Shopbop: Magda Berliner, Weitzman, Rachel Roy, Badgley Mischka, Raquel Allegra, Garde Paris, Rebecca Taylor,Oliver Theyskens & Sonia Rykiel
PLEASE READ IF YOU WOULD LIKE TO PARTICIPATE
If you would like to submit your link for next week's Links à la Mode, please
register first
, then post your links
HERE
. The HTML code for this week will be found in the
Links a la Mode
group will be published later today. ~Jennine
This is so cool! AHHH.