These build your own lime and chilli tacos make for a quick and easy meal, perfect especially now, as the days heat up and get longer.
Serve it as a meal or snack- at the pool, for the beach, at lunch or dinner- perfect anytime really.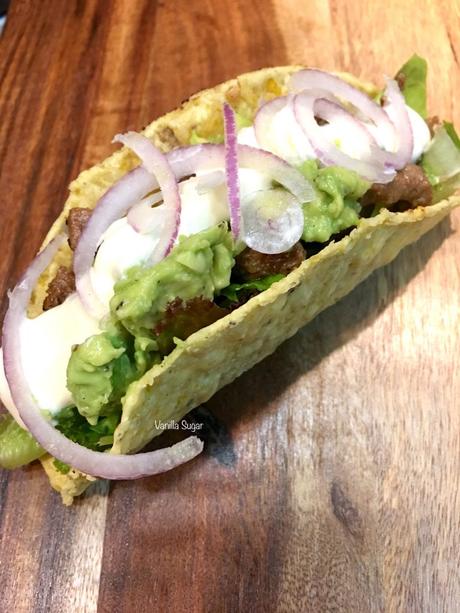 Vanilla Sugar
1/2 kg rump steak sliced in to strips
Salt to taste
A generous grind of fresh black pepper
1 tsp lemon pepper
2 tsps crushed garlic
1 tsp coriander powder
1/2 tsp chilli powder
1/2 tsp freshly ground red chilli
Juice of 1 lime
Store bought taco shells
Marinate the steak in the spices for a few hours.
Heat about 2 tbls olive oil in a heavy based frying pan and add the steak.
Stir fry, then lower the heat slightly, cover and allow to cook till done.
Once again adjust to a higher heat and allow the steak to brown and the juices to sizzle.
Serve with taco shells which have been heated according to the cooking instructions on the box.
Guacamole:
1 avocado
1/2 tsp garlic
A few squirts of lime juice
Freshly ground salt & pepper to taste
Mash all above in a bowl.
To Serve:
Shredded lettuce
Sliced red onion
Sour cream
Guacamole
Sliced jalapeño
To Assemble:
Place lettuce into the taco.
Top with steak.
Add some guacamole.
Drizzle on sour cream.
Sprinkle on some red onion slices.
Jalapeños to finish off or nibble on the side.