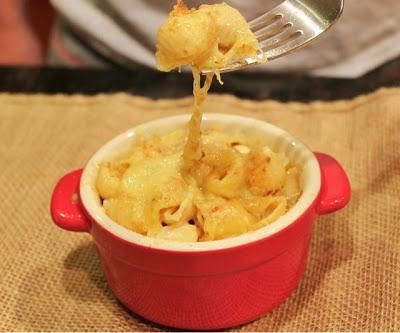 Mac and cheese makes me happy. I don't know what makes me happier. The cheesy sauce, the little shells, the crunchy topping. <sigh....>Cut to a mac and cheese that you don't have to feel THAT guilty about eating, and has no less flavor than the full fat version.If I am going to eat healthier versions of the food I love then it needs to taste good! Welp, this recipe fits the bill.  I only used three strips of center cut bacon ( crumbled) which is actually not that fatty. Buuuuut you can always add something healthier like broccoli!
This mac and cheese is super easy to make. You can even make it in advance and then bake it the day of. I actually really like mac and cheese before you bake it sometimes so if that is how you prefer it just omit the breadcrumbs and don't bake. Now that the nights are getting cooler and summer is a thing of the past I am more than happy to embrace comfort foods again, sit on my couch in my sweats and eat a giant bowl of this mac and cheese. The Greek yogurt is actually an amazing addition to this dish. It is a super creamy and tangy addition to the sauce. Did I mention the added protein? Between that added protein from the Greek yogurt and the whole wheat pasta your belly is well on its way to be full for a very very long time!
Lighten Up! Bacon Mac & Cheese
Ingredients:
2 cups elbow macaroni, fusilli, or cavatappi pasta ( I used whole wheat baby shells)

2 Tbsp butter

2 Tbsp flour

2 cups 2% milk

1 cup low fat shredded extra-sharp Cheddar

1/2 cup shredded mozzarella

1/2 cup grated Gruyere or other Swiss cheese

1/4 cup Greek yogurt

1/2 cup panko bread crumbs

1/4 cup grated Parmesan

Pepper to taste



Directions:

1. Cook the pasta according to package instructions until just al dente. Drain and reserve the pasta. While pasta is boiling saute chopped peblano until soft. Set aside.
2. Meanwhile, melt the butter in a saucepan over medium heat. Sprinkle in the flour and cook for 1 minute, stirring constantly. Gradually whisk in the milk and cook, stirring frequently, until thickened, 5 minutes. Add the Gruyere, Cheddar, and mozzarella, and stir until melted. Cut the heat, add the yogurt & pumpkin and cooked pasta, and toss.
3. Heat the broiler. Pour the mac & cheese mixture into an 8" square baking dish. Top with bread crumbs and Parmesan, and season with black pepper. Broil until the bread crumbs are golden brown, about 5 minutes.