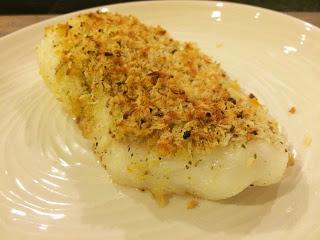 Let me introduce you to my new favorite ( super easy) weeknight dinner. Preparation could not be easier. Ingredients are minimal. You literally throw it in the oven and wait for it to turn into a seafood masterpiece. Yup, I know. Read on.
When I get home I don't really have time to slave over the stove for an hour. I play with my dogs, tidy up the house, do the dishes. I don't have an hour to cook a labor intensive meal. For all of the needs stated above, this is why this dish is perfect.
I love cod because it is super mild, very abundant in New England, and can withstand the heat of oven cooking, You can even overcook it and not notice very much. Score! This recipe is fairly basic, but feel free to change it up if you want. Since I have started making this weekly, I have tried different versions. I have added Parmesan to the breadcrumbs( delicious.) I recently bought rosemary garlic panko from Whole Foods which was amazing also.
Since we are in the Holiday season and you probably have no desire to cook anything too time consuming this dish is perfect. Try it out. You will love it!
Breaded Baked Cod
Ingredients:
Oil for the baking dish
4 (6-ounce) pieces skinless cod fillet
3/4 teaspoon fine sea salt
1/4 teaspoon freshly ground black pepper
3 tablespoons melted unsalted butter, divided
1 lemon, juice of, divided
1/4 cup dried white or whole wheat bread crumbs
3 tablespoons finely chopped parsley
2 tablespoons finely chopped chives
Directions:
Preheat oven to 425°F. Oil a 9- x 13-inch baking dish or medium oval baking dish. Sprinkle cod with salt and pepper and arrange it in the dish. Drizzle it with half the butter and half the lemon juice.
In a small bowl, combine bread crumbs, parsley and chives. Sprinkle the mixture over the cod and drizzle with remaining butter and lemon juice. Bake just until bread crumbs are crisped and cod flakes easily with a fork, about 12 minutes.