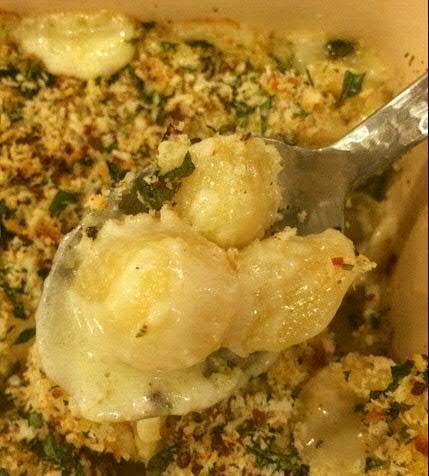 I love mac & cheese. What's not to like really? Pasta is amazing.Cheese is amazing.And the creamy texture? Not to mention.. who doesn't want to sit snuggled on your coach when it is chilly out and eat a gigantic bowl of creamy mac & cheese. Don't make me go on.
I grew up eating boxed mac & cheese like many of us did. In college, I ate lots and lots of easy mac. Even worse. And now, I have realized just how easy mac & cheese is to make FROM SCRATCH! I swear. Super easy. And the taste cannot be beaten by that ole boxed powder.
For this recipe I used a block of sharp cheddar cheese. Gruyere would also be delicious or you can always make a blend of your favorites. I read somewhere that you shouldn't use extra sharp cheese because it is harder to melt. Another trick is to take the bechamel off the heat before whisking in the cheese. Ever make a cheese sauce and it gets really grainy and gross? Yup, it was too hot and the cheese separated. Bleh. Take the sauce off the flame and add the cheese. You will be golden. Another hint, grate the cheese yourself. Pre-shredded cheeses loose their taste very easily. Take 2 minutes of your time and grate the cheese yourself. You will not be disappointed. 
I actually prefer mac & cheese NOT baked most of the time, but I decided to bake this one. I have to say, the crunchy topping was quite delicious! 
Baked Mac & Cheese
Ingredients:
2 cups orecchiette pasta
2 Tbsp butter ( 1 extra tsp for buttering the pan)
2 Tbsp flour
2 cups Whole Milk
2 cup sharp Cheddar Cheese ( Grate it yourself)
1/2 cup panko bread crumbs
1/4 cup grated Parmesan
2 tablespoons fresh parsley chopped
Pepper to taste
Directions:
1. Cook the pasta according to package instructions until just al dente. Drain and reserve the pasta. Set aside.
2. Meanwhile, melt the butter in a saucepan over medium heat. Sprinkle in the flour and cook for 1 minute, stirring constantly. Gradually whisk in the milk and cook, stirring frequently, until thickened, 5 minutes. Cug the heat and add the cheddar and stir until melted.Add some black pepper. Sauce may need salt, but I doubt it.  Toss in cooked pasta and coat. 
3. Heat the broiler. Pour the mac & cheese mixture into a buttered 8" square baking dish or individual ramekins. 
4. Mix breadcrumbs, parmasean and parsley in a small bowl. Top the mac & cheese with breadcrumb mixture.