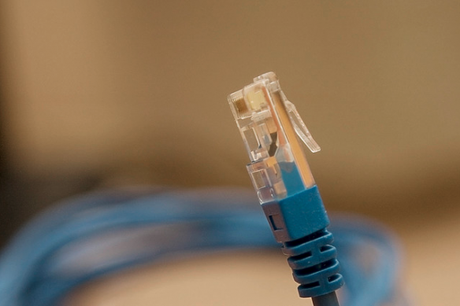 In a kind of happy accident, I find myself living without the wonders of the Internet. Yes, saying so on my blog is like calling to tell you I don't have a phone, but I'll explain.
I recently moved into a great little apartment in the heart of the city and, after years of unfettered access, I simply assumed the Internet was part of everything included.
Soon after I moved in, I had the urge to faff around on facebook instead of unpacking — so I text my landlord: "I've been meaning to ask you what the wifi password and network are."
"Que?" he wrote back.
I nearly dropped my phone in horror. No Internet? This was how I reacted:
Well, it's been a couple weeks now, and I still have not done anything to remedy the situation.
I must qualify by saying I'm not completely deprived. In a pinch, I can do things on my iPhone, and my current day job keeps me in front of a computer, connected to the world, as I read, write, repeat for eight hours at a time.
But since I'm far too busy at work to use Facebook socially or stream a quick youtube video, it's not the access I have while in bunny slippers at home. (Not that I own a pair or anything…) Also, browsing on my phone is like riding a fat pony when I'm used to a stallion.
I instead of scrounging for internet, I discovered a few things. Here's a short list:
I live in an immensely walkable neighbourhood.
I love me a good graphic novel.
Reading a tangible newspaper is actually quite satisfying.
It's nice to have people over for long, unhurried visits.
It's not that terrifying to ride my bike through busy downtown streets.
I like to cook – even do dishes! – while listening to my cheap little AM/FM radio.
My dusty university books have some pretty funny notes in the margins.
That box of old pictures is full of classic stuff (What possessed me to collect a bunch of my friends' baby pictures when I was 15? And why did they give them to me? Awesome.)
Basically, I'm like a giraffe in quicksand who's starting to appreciate the view from here. That analogy will only make sense if you watch this:
Okay, let's get real. I'm no luddite and I am definitely going to get the Internet back in the very near future. I've been terrible at updating my blog and I've probably been unfollowed by many an impatient tweep, but it must also be said that this inadvertent sojourn has been … pretty damn cool.
My eureka moment was embarrassingly simple: you can do a lot when your fingers aren't on a keyboard.
Again, I realize that I'm on the internet right now. I'm easing my way back in, okay? But I'm also at a coffee shop and a guy with a guitar just set up his mic, so I think I'll get off the wifi and pay attention.
Until 'net time!