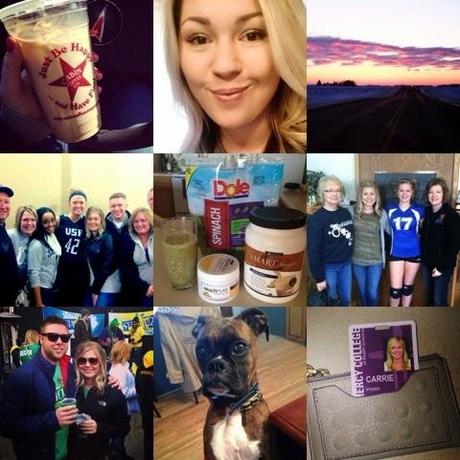 Let's get personal. 
Even though I post weekly, its usually all makeup and skincare related. However, I like to mix it up and share with you some more personal 'stuff'. 
Here is a peek into my life from the last few weeks:
Cabin Coffee. Enough said. Every time I drink their iced caramel latte, I say out loud, "How do they make this SO good?"
That Iowa sunset is just one I had to capture. A peaceful & calming way to enjoy a long hectic day.
GO COO! My bestie is a college baller & I was thrilled to watch her play in the tournament.
I've become a green smoothie drinking machine. These keep me full all morning and surprisingly give me a ton of energy. If you have a good recipe, shoot it my way! :)
My younger sister plays club volleyball. I couldn't believe the skill level at their age! Very fun & exciting to watch. (With my grandma and mom.)
St. Paddy's Day came and went earlier this week. Burke and I hit up the downtown block party and enjoyed good company & green beer. 
I just had to include our little fur friend. Sidney can make and ruin my day all in about 5 minutes. haha.
Last but not least, while I think my whole FB and IG fam has already heard the news, I'm proud to say I have officially been accepted into the Cardiac Sonography program at my college. Competition was tough and the interview nearly made me break a sweat, but I am beyond thrilled to finally get the start of my career rolling. Woo hoo!
So that's all for today. I hope you all enjoyed a little closer look at what I've been up to! I should do this more often. :)
You can also find me on Twitter & Instagram: @carrieberschman
Happy Friday!! GO CYCLONES! Who are you rooting for??