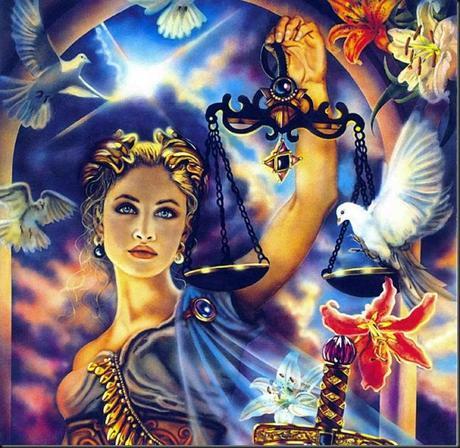 Yesterday on my Facebook page I did a quick article on Venus in Libra hitting the Uranus Pluto square, and Aliza from MoonPluto.com (she's a brilliant Astrologer and friend from NYC – check her work out) mentioned correctly that Libra had this reputation for argument and conflict, even though it is also a sign of peace and harmony. This set me thinking to have a look and explore exactly why this is.
I think that Libra does strive for harmony whichever way it can, and if it has to be outspoken to get balance, harmony and justice it desires, then those with Libra prominent will do things that way. There do seem to be shades of Libra where the planets tenanted in Libra tend to influence the way Libra will act. As I said yesterday, I have Libra rising, and my natural reaction has always been not to fight, I totally dislike arguments, disagreements and fighting. It's not my way and I always try to act as the peacemaker rather than the aggressor.
The stars of the constellation of Libra form part of the gateway to the Symplegades, the famed clashing rocks in the story of Jason & the Golden Fleece, and they do reflect these two differing attitudes. Both stars are noted for their need for social justice, but they differ in approach, acting in either a selfless or selfish manner. Zuben Elgenubi is the selfless star of the two, the one who wish reform and balance in an even handed and gentle manner not looking for aggrandizement in any way. Zuben Eschamali on the other hand is a star which has a character of wanting reform and balance but in a way that will personally benefit you. It is a more selfish, aggressive and egotistical star. So here we have the two sides of Libra, and I suspect that this goes a little way to explaining the seemingly complex nature of this sign. I then decided to look at the inner planets and see if Libra is overtly aggressive in nature.
The list below is a totally unscientific study. I have looked at 3 groups of well known Sun Sign Librans with at least one other planet in the sign, either more gentle Venus or more active and aggressive Mars and it does seem to throw up two rather contrasting sets of characters.
Sun & Venus in Libra
Will Smith (American Actor), Desmond Tutu (Archbishop of Cape Town, S Africa), Sebastian Coe (Athlete and Head of London 2012), Christopher Reeve (Actor), Ian Thorpe (Swimmer), Viggo Mortensen (Actor), David Cameron (UK PM), Nana Mouskouri (Singer), Zucchero (Singer), Meatloaf (Rock/Pop), Om Puri (Actor), Alex Zanardi (Racing Driver/Paralympian) Mickey Rooney (Actor) Jacques Tati (Director) Hilary Duff (Actress)
Sun & Mars in Libra
Margaret Thatcher (UK PM), Julia Gillard (Australian PM), Simon Cowell (TV & Music Executive), John Lennon (Beatles), Jedward (annoying Irish pop twins), Roger Moore (Bond Actor), Sarah Ferguson (ex Royal), Eminem (Rapper), Wyclef Jean (R&B/Pop), Johnny Carson (TV Interviewer), Fran Drescher (TV Actress), Pele (Soccer Star), Zac Efron (Actor), Alicia Silverstone (Actress), Youssou N'Dour (Senegalese Musician), Mia Wasikowska (Actress), Cliff Richard (Singer)
Those with Sun, Venus and Mars in Libra
Michael Douglas (Actor), Britt Ekland (Actress), Anne Robinson (TV Presenter)
It seems to me looking at the above list that the presence of Mars in Libra turns up the volume a couple of notches very much as I suggested yesterday, whereas the Sun Venus in Libra without the presence of Mars seems to be a far more easy going and gentle set of personalities who don't seem to use aggression and argument as a main plank of their personality, with a couple of notable exceptions…
Please tell me what you think…