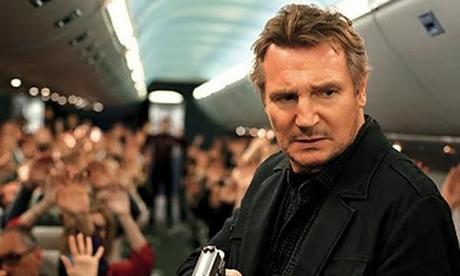 Liam Neeson is one of the few actors who never fails to turn any crappy-looking movie into an epic action-packed film. Take Star Wars: Episode I , Unknown or The Grey for example. They were not really great buy Neeson made it work. Well, Neeson fans will be happy to know that the dude is back in an epic thriller called  'Non Stop.'
Apparently, this time Liam Neeson who plays US Air Marshal Bill Marks gets
Taken
 on an airplace almost the entire movie and all the action takes place 40,000 feet in the air.
"During a transatlantic flight from New York City to London, US Air Marshal Bill Marks (Neeson) receives a series of cryptic text messages demanding that he instruct the government to transfer $150 million into an off-shore account. Until he secures the money, a passenger on his flight will be killed every 20 minutes."
Sounds a little bit like a boring airplane hijack movie, but check out the trailer before you judge because it looks pretty awesome.
'Non-Stop'will hit theaters on February 28, 2014.
Email This
BlogThis!
Share to Twitter
Share to Facebook