One thing David and I just hadn't considered was a wedding cake, neither of us were too bothered, the cake shops around us seemed to charge too much for too little, and we thought we'd rather spend a few hundred pounds on extra bottles of wine or asking the band to play a while longer!
But, who hasn't had MAJOR fantasies about Chocky Wocky Doodah? I'd heard of them before we were even engaged, their cakes are unbelievable, I can't even work out how they make them?! I adore the 'All You Need is Love' design, David and I lived in Liverpool for a few years and had lived in 'Lennon Studios' and on Penny Lane, so a nod to the Beatles would have been nice, and if we had a little more money to spend I would have placed my order immediately!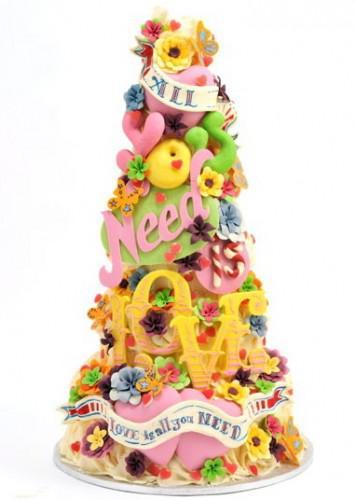 Anna, David's sister, had a delicious chocolate 3-tier Marks & Spencer's cake complete with fondant roses for her wedding a few years ago, and we were going to follow suit and buy a ready made one. Waitrose also make wedding cakes, and we thought we could just add some fresh flowers and 'make it our own' closer to the day.
However, (and seemingly off on a tangent), David is a complete football and sports addict, from following every player and sports journalist on twitter to trawling through forums to discover the latest from 'the Boro'. He drives me mad, telling me about what he's discovered from a site called 'Fly Me to the Moon', a Middlesbrough Football Club fan website, until one day he looked up and said "Are we sorted for a wedding cake yet?". Someone had posted on the site that their wife had started making and decorating cakes of every kind, with flavours ranging from lemon to rich chocolate, and that they were doing commissions for very reasonable prices. I looked at Mr & Mrs Maker's facebook page and saw all the brilliant feedback they had received, and asked for a quote for a very simple three-tiered wedding cake with white icing. When they got back in touch I asked for a booking form immediately! A fruit cake for the largest bottom tier, a chocolate cake for the middle tier, and a strawberry cake tier on top; covered in traditional white icing, and they also offered to match ribbons to whichever colours I wanted for no extra cost. So thanks to David, what a find (and I promise to stop complaining about wasting your life on football websites!).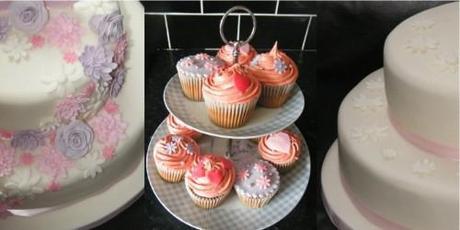 As I said before, originally we were going to decorate the top of the cake with fresh flowers, maybe some peonies in colours to compliment everything else, or finding a kitsch, retro bride and groom topper; then I had another idea… Now, it's getting a bit embarrassing how much I am referencing What Katy Did Next, and as I write I'm realizing just how much I've asked her to make for our day! Katy had made fabric 'love birds' in her collection as a small home decoration, and I had the idea of her making me a set as a bride and groom to have as a cake topper, using fabric which would tie-in with our existing colours and décor.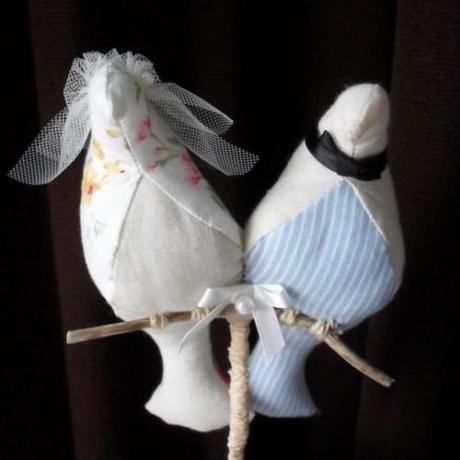 Katy also had material left over from the bride bird, so has made it into a ribbon for one tier of the cake, along with finding lace and a pale blue ribbon for the other tiers, even providing pearly pins to secure them with. She also offered to make some cream embroidered flowers (similar to the ones on the headbands) to dot all over the cake to finish it off. (Cake mock-up
also
courtesy of Katy herself!)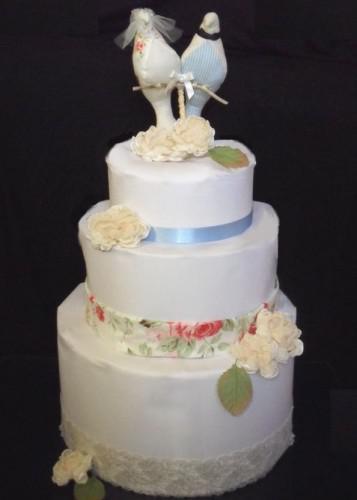 Katy also wraps everything up in ribbons, twine and vintage music sheets (à la Salma's theme!), so beautiful. Below is my 'cake kit'.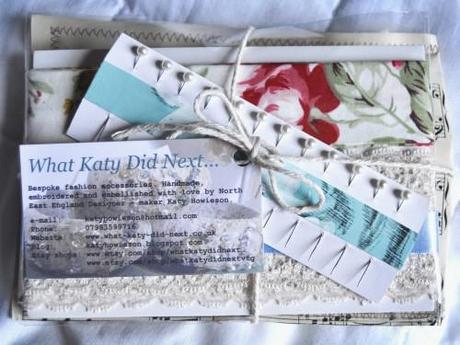 I'm so pleased with how our cake will look, and think it really shows that looking around for local crafters and makers can really pay off, we have something unique, and for a fraction of the cost of the cake shops we found in the area. Now I just can't wait to find a cake knife and dig in!
Sally xx