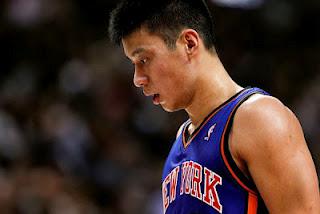 Photo: Jeff Zelevansky - Getty Images
- Troy Ballard
Jeremy Lin — how you have changed the complexity of NBA free agency this off-season.
It's not a traditional thing, what's going on here. The last time I checked, players like Lin (or those who post similar numbers) were usually the last one's to find teams. Players like Deron Williams, Eric Gordon, Steve Nash and Roy Hibbert are the ones who make the biggest splashes and get the most attention.
However, this is not a perfect world. Lin is arguably the hottest attraction of whom is left available this off-season. His magical run with the New York Knicks has put the NBA on notice, and nearly every team wants to get a slice of the
Lin-Pie
.
That's fine! In the famous words Jerry Seinfeld..
and there's nothing wrong with that
!
Congrats to Jeremy. He did was most thought impossible. Overnight, Lin went from being just another Harvard grad struggling to make it in the world (because he didn't want to use that degree for an actual job), and after a matter of mere games — he was an international superstar. Lin rallied a flat and deflated Knicks team that was front-loaded with talent, and pushed them on a winning streak to
barely
get them into the playoffs.
Following that amazing revival in Madison Square Garden, he blew out his knee and had to have surgery — successfully ending his season. The amazing Lin that was watched from the bench as the Miami Heat almost swept New York clean in the first-round of the playoffs.
Lin, who has yet to play a full season in his career, has earned this amount of attention based off a stat-line consisting of 14.6 PPG, 6.2 APG and 3.1 RPG.
Does anyone see an issue with this?
I will be the first to admit that I was totally caught up in Linsanity. I couldn't believe it. Like any other NBA fan, I was totally sold on what was happening, and I wanted more of it. People who weren't even Knicks fans were watching game after game, trying to breakdown and explain how one player from nowhere had changed the entire face of a team.
Yes, it was impressive.
Impressive enough to be being offered contracts in the $30 million range, an offer that has been rumored to be sent over from the Houston Rockets? Was Lin really good enough to be earning up to $10 million a season?
Who knows? The kid played in 35 games last season. That's it.
Lin has to be the highest-risk highest-reward free agency addition of all-time! What are fair expectations for a player that has only 35 games under his belt? An All-Star nod? An NBA Finals appearance? An MVP Award? 
With that kind of money -- he should be expected to get all three.
Listen, I love a feel-good story as much as the next sports fan, but this is getting ridiculous. Lin hasn't had a chance to prove himself for any extended period of time, and outside of his marketing value he is a total wildcard. 
Jerry, I am going to have to disagree with you. There is something most definitely wrong with what is happening in the NBA with Jeremy Lin, and for whichever team signs him, there won't be any going back.
Be Sure to follow Beard and Stache on Twitter @BeardAndStache, and also Troy @TroyBallards, like our Facebook page HERE!