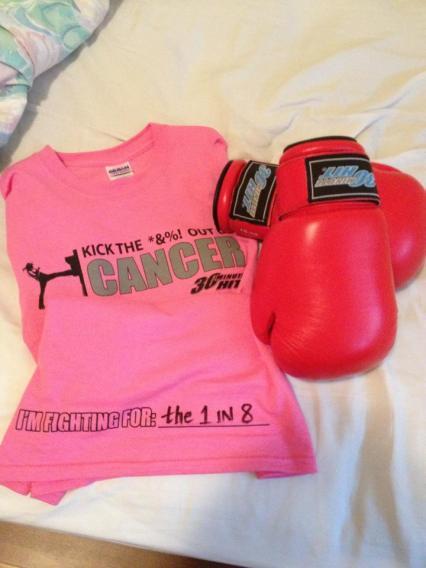 Hello Friends, Family, and Strangers,
I am participating in a fundraising effort with my gym, 30 Minute Hit. It is a circuit training gym that involves kickboxing/boxing (i'll blog about how great it is and the progress I've made since starting at a later time).
Throughout the month of October I am by Text-Enhance"> by Text-Enhance"> by Text-Enhance"> by Text-Enhance">participating in 30 Minute Hit Kicks the *&%! Out of Cancer. I vow to complete at least 15 circuits during this time to raise funds for the BC Cancer Foundation and women's cancer research at the BC Cancer Agency. Your support will help push me through each workout and through the entire month of circuits.
Cancer is a horrible disease that affects many individuals. I am fortunate enough to not have been personally affected, so I am fighting for those who have. The children, the men, 1 in 8 by Text-Enhance"> by Text-Enhance"> by Text-Enhance"> by Text-Enhance">women who are affected, their friends and family. As an RN, I see upfront the struggles patients and families go through battling this disease and I want to help. It gives me joy to see patients thrive in the presence of adversity and disease. It's really an amazing sight to see individuals with the most horrible diseases, have the most optimistic outlook on life. I hope everyone gets the opportunity to witness this. It brings tears to my eyes every time a patient shares their experiences and struggles. I feel fortunate enough that I have gained their trust in such a short period of time.
For now, here is a link to a great YouTube video that features cancer patients and a certain Kelly Clarkson motivational tune (I cried when I first saw this, so get some tissues ready): http://www.youtube.com/watch?v=ihGCj5mfCk8
Here is my personal website where you can donate:
http://donate.bccancerfoundation.com/site/TR/Events/TeamRaiserSimpleTemplate?px=1733761&pg=personal&fr_id=2090
Our collective efforts will help fund the research for the cure. It is a slow process, but we can all contribute, even just a little bit.
Every donation counts! It all adds up! I greatly appreciate your support and will keep you posted on my progress.