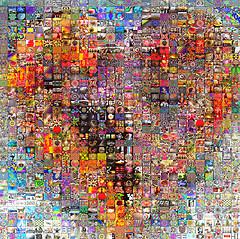 Image by qthomasbower via Flickr
If you're reading this blog, you may be doing so on a black background with white letters – or you get it through email normally.
They say (they, being on-line writing experts) that it's easier to read things with a white background and black letters. This is no doubt true.
In my opinion that's simply fine – not exceptional, not outstanding or magnificent – just fine – and I'm not all that excited about fine.
So, against conventional wisdom – I'm leaving the blog in black – sharp contract with white letters - call out titles in red – colorful pictures that dazzle or delight against the deepness of the page. 
Just because I like it. I really like it – I didn't design it however it makes me happy – so there you have it – I'm listening to my heart and pleasing myself first and because of that – I'm anxious to get to the page, anxious to help you learn about people skills, business etiquette, finesse, life, productivity and all the other topics that make up a magnificent life.
Somewhere along the way – maybe today – I've decided that even though there are many excellent reasons to go with conventional wisdom -many great reasons to listen to others opinions, I'm staying with something I like better.
Thanks for reading – I am open for suggestions – however I know that I can not please everyone – so I'm pleasing me first and this makes me happy. 
As a happier person – there's a good chance it will spill out and over lots of other people and they will be happier too.
Are you with me? Are you listening to your heart?  Would you share with me your thoughts on how pleasing yourself can be a people pleasing people skill?
Love to hear from you!
Blessings, Shawna