This is one of my FAVORITE recipes courtesy of Two Peas and Their Pod. Cool creamy lemon bars with fresh raspberries are just delightful on a hot summer day. They also have a blueberry version which would also be wonderful! These bars are incredibly easy, perfect for a backyard BBQ or pool party!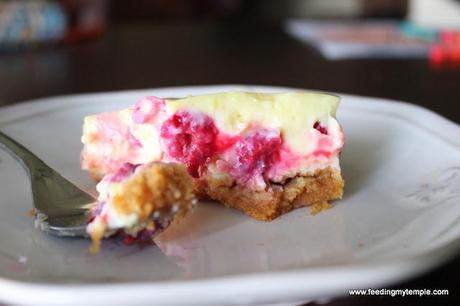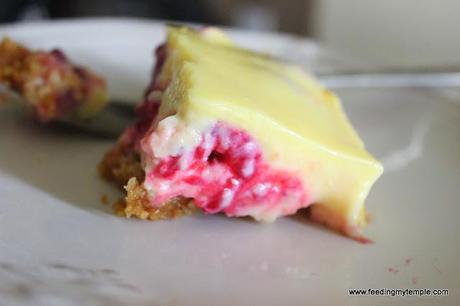 Lemon Raspberry Bars
from Two Peas and Their Pod
Ingredients
For the crust:
1 1/2 cup graham cracker crumbs
6 tablespoons salted butter, melted
1/4 cup sugar
Zest of one lemon

For the filling: 
2 large egg yolks
1-14 oz. can fat free sweetened condensed milk
1/2 cup fresh lemon juice
1 teaspoon lemon zest
6 ounces fresh raspberries

Directions
Preheat the oven to 350F. 
In a medium bowl, combine the graham cracker crumbs, melted butter, sugar, and lemon zest. Stir until graham cracker crumbs are moist. Press crumbs into a 9x9 pan sprayed with non-stick cooking spray. Bake for 10 minutes. 
Once the crust is cool, combine the egg yolks and condensed milk until well mixed. Stir in the lemon juice and lemon zest until mixture begins to slightly thicken. Gently fold in the raspberries. Fold carefully so you don't break the raspberries. <----you will get pink bars if you aren't careful!! 
Pour the lemon raspberry filling evenly over the graham cracker crust. Bake for 15-20 minutes, or until just set.
Cool to room temperature, then chill for at least 2 hours before serving. Cut into bars and serve.