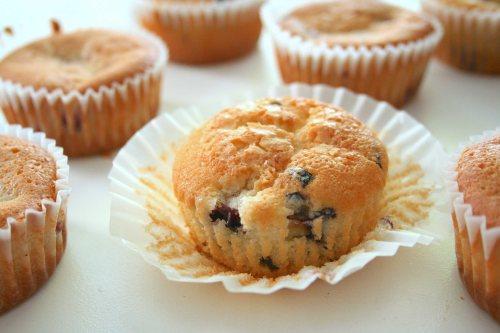 I think I've found it. THE gluten free muffin recipe. These are amazing! They're soft, light, and sweet, without being overly sweet. You can mix just about anything into the batter to create different muffin recipes. Today I made 2 varieties; lemon blueberry, and raspberry. Let me tell you, you will never have a better gluten free muffin.
I made these for my daughter's birthday. She is on an entirely gluten free diet, so I wanted to make something special, something she doesn't get every day. I was already started on the process of making her gluten free cake for party the following weekend, so cake was out as an option. What's second best? Muffins! After having just a couple surprise birthday guests stop by, these muffins were quickly polished off.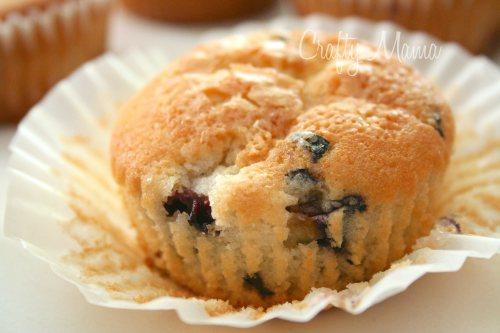 What you'll Need:
1 1/2 cups white rice flour
½ cup potato starch
1 cup tapioca flour
1 ½ teaspoons baking powder
½ teaspoon baking soda
½ teaspoon salt
10 tablespoons butter, room temp
1 cup white sugar, plus more for sprinkling
2 large eggs
Zest of 1 lemon (optional)
1 ½ cups plain yogurt
1 cup blueberries (or any other mix in)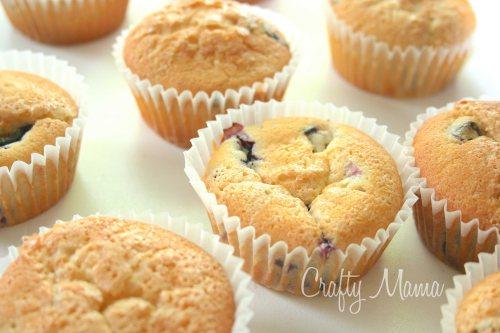 Preheat oven to 375.
Mix your flours, baking soda, baking powder, and salt together in a separate bowl. If you don't have a variety of gluten free flours, you can buy a simple Baking Mix, which will have a blend of flours and starches in it. I just used a variety of what I had on hand.
In your mixer, cream the butter and sugar. Add eggs, 1 at a time, scraping the bowl in between.
Add 1 cup of your dry ingredients, mix, and then ½ cup of the yogurt. Mix between each addition. Continue like this until both ingredients are mixed into the batter.
Throw your berries in a separate bowl with just a bit of flour. This will prevent them from sinking in your batter. When they sink to the bottom, they don't get evenly distributed, and will form one large berry clump at the bottom of the muffin. Beware, it's like a molten lava surprise! Just coat the berries with flour, and you can avoid all that.
Add your berries and lemon zest to the batter. Mix until combined.
Line your cupcake tin with cup cake wrappers. Using a cupcake scoop (about 1 ¾ – 2 oz), scoop the batter into your lined tin.  Sprinkle extra sugar on top of the batter. Bake for about 35 minutes, or until browned on top.
This recipe gave me roughly 24 muffins.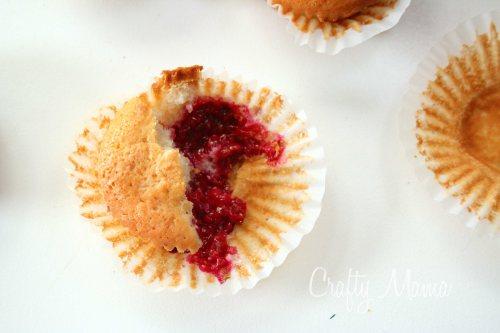 Now, I like variety. Why have 2 dozen lemon blueberry  muffins, when I could have 1 dozen lemon blueberry muffins, and 1 dozen raspberry muffins?
If you want to split up the flavors, simply divide the batter before adding anything to it. I split it roughly in half, pouring the extra into a separate bowl. I mixed half the amount of blueberries called for to one portion, and about ½ cup of frozen raspberries to the other half. It worked out beautifully. You could also add other things like, diced apples and cinnamon, orange zest and dried cranberries, peaches, chocolate chips, or whatever else you can think of.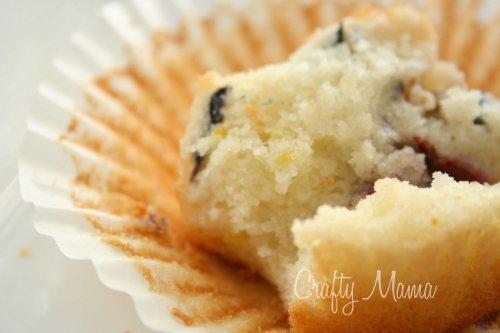 (See all that yummy lemon zest?)
These muffins turned out amazing. They don't taste at all gluten free. They're sweet, and a little tart. This is a recipe I will definitely be cataloging to add to later! What kind of flavor combinations can you think of?