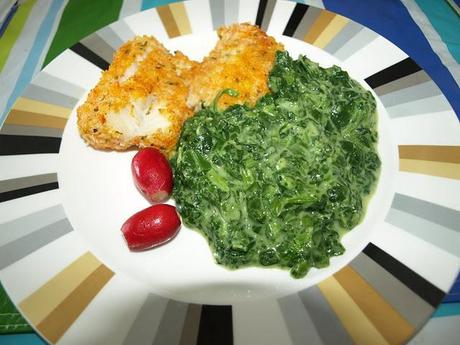 Now, summer camp is over,
hurricane Irene
has passed (thank God!), everything is back to normal. Therefore, back to cooking! Today I was in the mood for fish, and this is what I made:
1

lb

cod fish fillet

1/4

cup

butter

, melted

2

tablespoons

lemon juice

1/2

cup

Panko breadcrumbs

1 tablespoon white wine

1/2

teaspoon

salt

1/8

teaspoon

white pepper

paprika, dried parsley
If fish fillets are large, cut into serving pieces.
Mix butter, white wine and lemon juice.
In another bowl, mix Panko breadcrumbs, paprika, dried parsley, salt and white pepper.
Dip fish into butter mixture; coat fish with the Panko mixture.
Place the fish in an ungreased square baking dish, 8x8x2 inches.
Cook uncovered in 350 degree oven until fish flakes easily with a fork, 25-30 minutes. Garnish with parsley sprigs and lemon slices if desired. I served it with creamed spinach and fresh radishes.
The recipe called for the butter mixture to be poured over the fish fillets. I advise you to refrain from doing so, otherwise the fish will have a soggy bottom.  Enjoy!