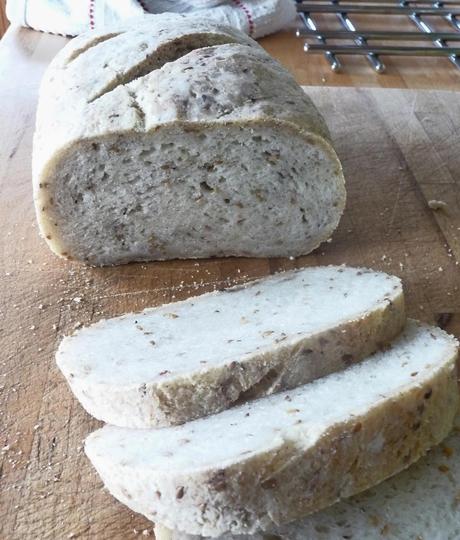 Gluten fee bread that looks and tastes (well similar) to real bread is the holy grail, yesterday on baking a Dan Lepard recipe I came close, very close to nirvana. This recipe has the praise of various bloggers across the world and is also featured on the
BBC Food website
,  so given that I had a lekue bread maker to give a whirl I thought I would give it a try and wow, I wasn't disappointed. The resultant bread had a crunchy crust and a texture heading toward a real crumb structure, it even rose a little and had a tiny bit of oven spring.
The recipe features two ingredients that make all the difference to gluten free bread baking, pysllium husk and golden linseed (aka flaxseed) both of which have gummy properties (there is no other way of putting it) which help give the bread stretch and which help make the crumb softer. The linseeds also help give the bread a "wheaty" like flavor.
I think the bread would be ideal toasted along side pate or toasted and topped with cheese and beans, its more like an artisan crusty cob loaf than sandwich bread.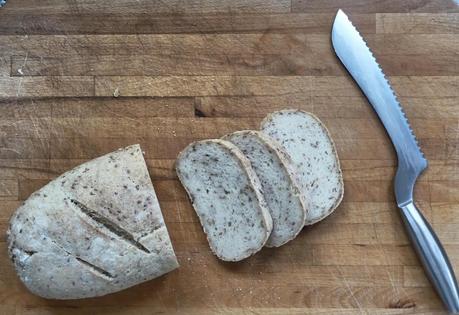 What you need
30g golden linseeds
475ml warm water
2 1/2 tsp fast action yeast
100ml natural yogurt - I used greek yogurt
450g cornflour
1 tsp salt
1 tsp caster sugar
50g psyllium husk powder
50ml olive oil
Extra olive oil and cornflour to finish
What you do 
In a bowl mix the yeast and water, so the yeast starts to become active, stir in the yogurt and the baked linseeds. Mix this all together.
In the lekue baking bowl I had weigh out the cornflour, psyllium husk, salt and sugar.
Add the yeast mix and olive oil into the dry ingredients and mix well, do this quickly as it rapidly starts to seize.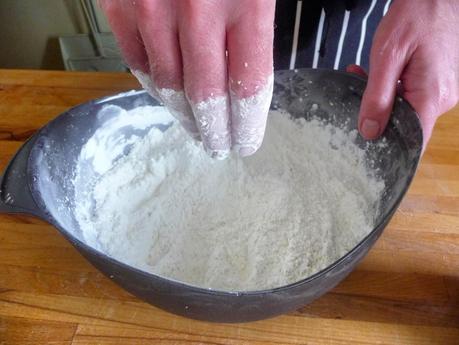 Once the mix is firm enough knead it for about 10 seconds ( I did this in the bowl), cover and leave for about 30 minutes, I did this by folding up the bowl.
After the 3 minutes has passed shape the dough ready for baking, either on a tray lined with baking paper or in my case in the bowl,. Brush the top of the dough with a little extra oil and cover and leave to rise for 30 minutes (and amazingly it did a little) covered or in the lekue bowl.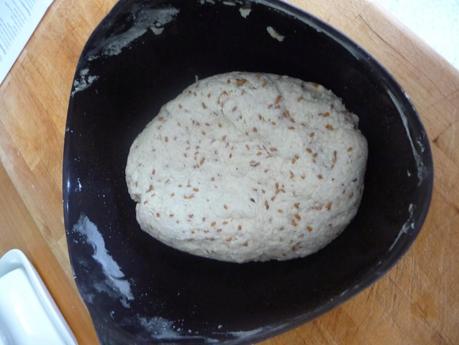 Pre heat your oven to 220c fan / 240c normal , uncover the dough and slash the top and sprinkle with a little cornflour. Bake for approx 40 minutes or so until a good color is achieved.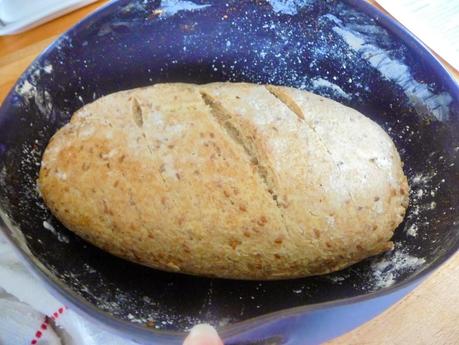 Leave to cool on a wire rack until fully cold before cutting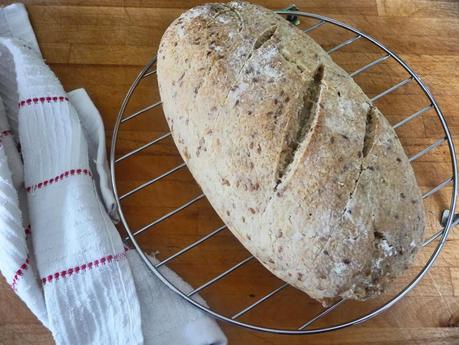 The dough is versatile enough to be suggested for buns or a foccacia sheet also.
The recipe is adapted slightly from
Dan Lepard's recipe on BBC Food
and I used the Lekue Bread maker which had been provided to me by Lekue for review purposes.