Most of you know I was lucky enough to adopt a beautiful 7 month old Parson Russell Terrier named Brodie last month while visiting my parents in San Diego, California.   We arrived home on a Saturday and pet (and human) training started the very next day! It's been five weeks and I actually think today is the day Brodie and I will graduate from school!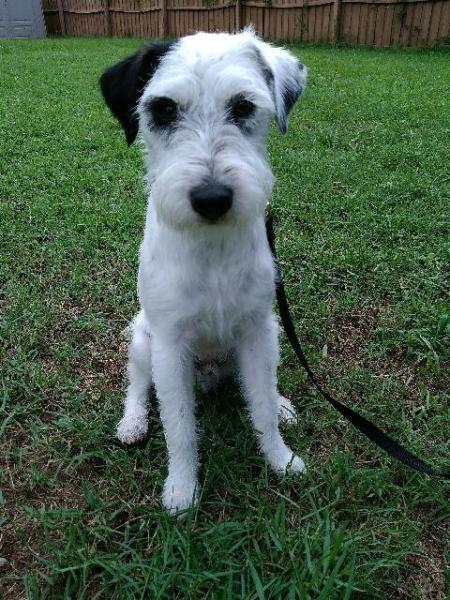 We've gone from a horrible struggling leash walking situation to a very calm dog on a leash that isn't being pulled. I decided that I wanted to take that a step further, but wasn't sure I would be able to trust little Brodie without a leash all of the time. That's where the Leisure Leash comes into play.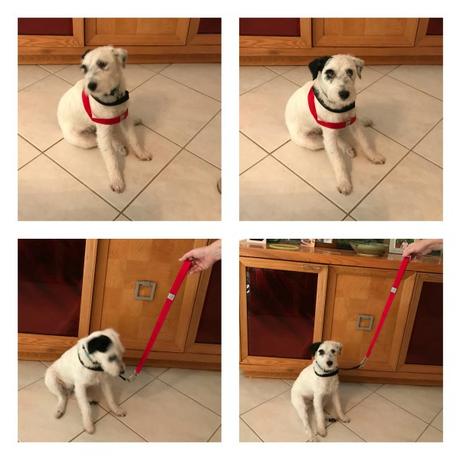 The Leisure Leash was designed to accommodate teaching, training, flexibility, economy and convenience. The best part is your dog carries the Leisure Leash and gives you a total hands free option for playing in dog parks, beach running and freedom in other open spaces. Leisure Leash is proud to say that their product is handmade from start to finish in America.
The Leisure Leash has a couple of parts.  The 1″ leash that comes in blue, pink, red, purple or turquoise, is actually the the leash and then the 3/4″ black one is the slip collar. To get everything set up, I removed the 3/4 slip collar from the included carabiner clip.  I pushed the smaller "D" ring at a slight angle through the larger "D" ring and reattached only the smaller "D" ring to the clip. Then I slipped both parts (the 1″ leash and the 3/4″ slip collar) over Brodie's head and he wore them both like a collar.  When I was ready to use the leash, I pulled the red (or blue, pink, purple or turquoise) over his head, and then we used it as a short lead perfect for taking him for a walk.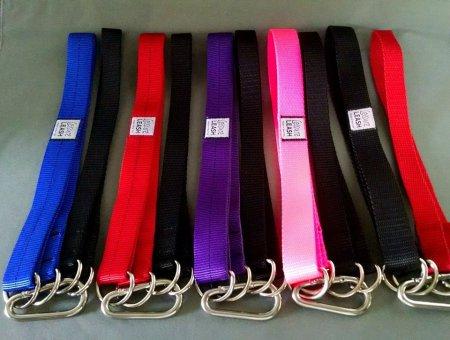 I do wish that the Leisure Leash had a slightly smaller set up for smaller dogs. I felt like this one was a bit bulky for Brodie, who weighs in at exactly 19 pounds (as of his visit to PetSmart yesterday), but in all honesty, he didn't seem like he was having any problem with its size or weight.
In case my instructions above are unclear, Leisure Leash has a really nice instructional video on their website: 
If you want to know more about how the Leisure Leash works, or if you'd like to pick one up for you and your pup, head over to the Leisure Leash Official Website HERE! You can also head over to the Leisure Leash's Facebook page or Twitter page to connect with them too!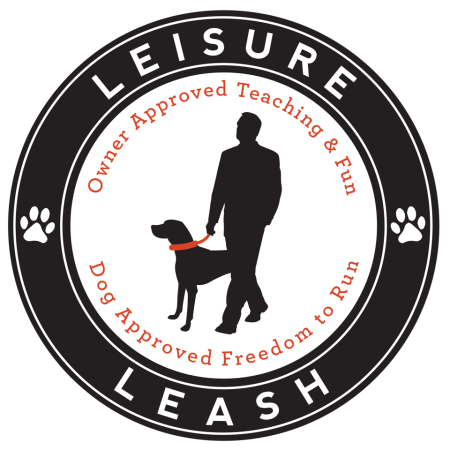 I was provided with a complimentary Leisure Leash in exchange for this post.
~ ~ ~ ~ ~ ~ ~ ~ ~ ~ ~ ~ ~ ~ ~ ~ ~ ~

It would be great if you would stay connected with me!! You can follow me on Twitter @DebiL1611, like me on Facebook at 2014 and Beyond, circle me on Google+, follow me on Tumblr, Instagram and Bloglovin', subscribe on YouTube, or connect with me on LinkedIn and Pinterest.

Please make sure to visit my homepage and subscribe to my blog for more great posts on running, fitness and lifestyle topics as well as food, product, music and book reviews, and more!