LEGOLAND Malaysia Water Park, the first of its kind in Asia and the biggest one in the world, opened its doors to the public on October 21, 2013. The weekend before though, we traveled all the way to Singapore then Nusajaya, Johor to attend an exclusive media day and get a first glimpse of this exciting new attraction for our Filipino readers. Read more…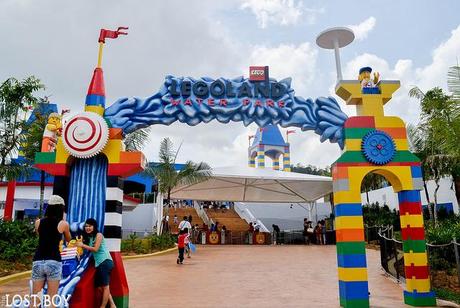 Our friends from LEGOLAND Malaysia Resort arranged coach transfers for us from the Singapore Flyer to the park with WTS Tours. The same express service that runs several times daily costs 20 SGD (~680 PHP) round trip and includes a 5 MYR food and beverage voucher. Including immigration clearances via the Tuas 2nd Link, the trip took just an hour.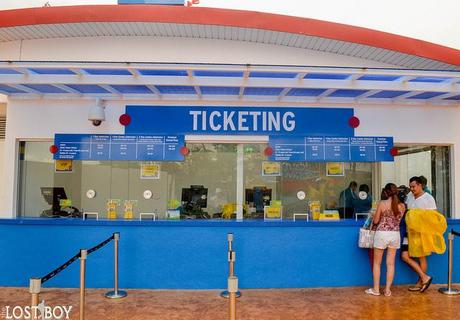 We arrived at LEGOLAND Malaysia Resort and got ourselves immediately sorted out. We then proceeded to the press conference led by their general manager, Mr. Siegfried Boerst. After welcoming us, he told the media that they were operating on full swing come opening day.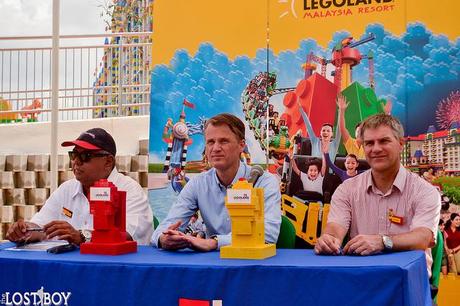 Further, he assured everyone that their standards for safety are very high. The entire park follows international protocol when it comes to safety, and their local lifeguards have been trained by qualified professionals. They have also flown in some lifeguards and staff from other LEGOLAND Water Parks to train staff and oversee current operations.
Shortly after, we changed into our swimwear to experience the park. They have lots of lockers family and friends could share for 20 MYR (~270 PHP) or 40 MYR (~540 PHP) a day. We found the separate shower and changing rooms to be clean and spacious, but while hair and body shampoo is provided for, towels and extra toiletries must be brought or purchased.
The first attraction that we noticed happen to be one of the park's highlights, the Joker Soaker. It allows kids and big kids to aim water canons at each other, and as an added surprise, a giant bucket suddenly pours 350 gallons of water into the wade pool below.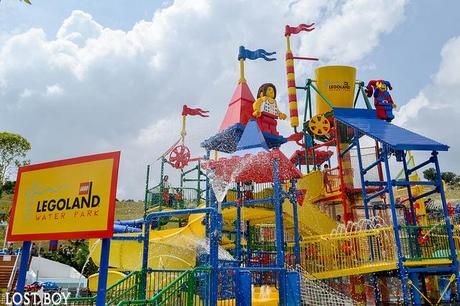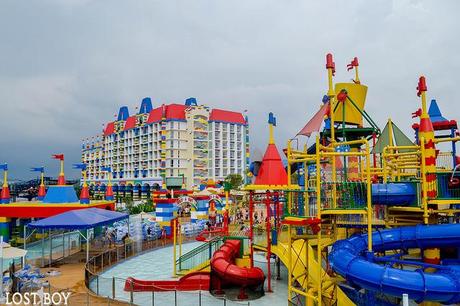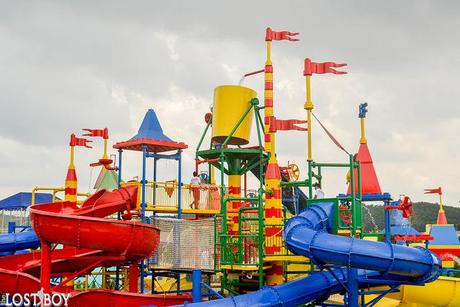 What was enjoyable for me was the Build-A-Raft River. It's the typical lazy river ride, but what makes it more fun are the large LEGO soft bricks all over the river and the rafts that can be customized with them. Along the way too are LEGO figures and fountains.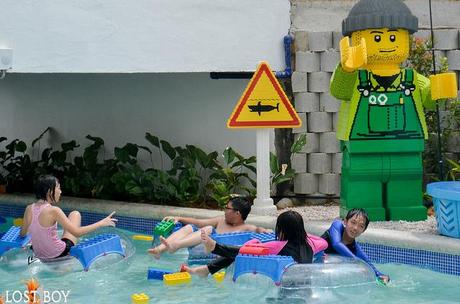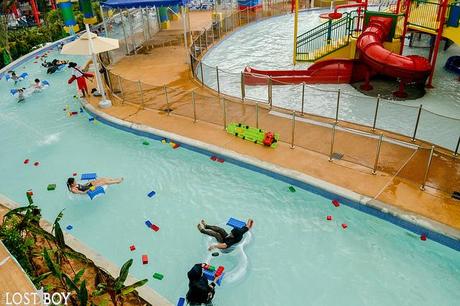 For younger kids and families, there's DUPLO Splash Safari, a fun attraction with toddler-friendly slides and interactive larger-than-life DUPLO creatures, and Imagination Station, where families can build impressive bridges, dams, and cities out DUPLO bricks and test them against water current. There's also a cool musical water stand!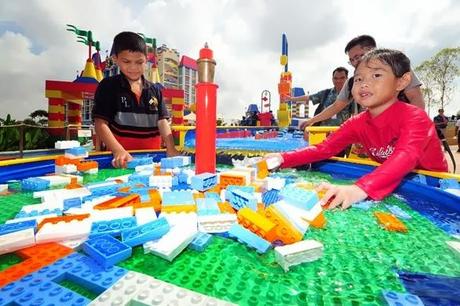 Any water park isn't complete without a wave pool. At LEGOLAND Malaysia Water Park, they have the LEGO Wave Pool that's kid-friendly. It's shallow for the most part, and its lowest point only goes about five feet deep, so it's fun for everyone in the family.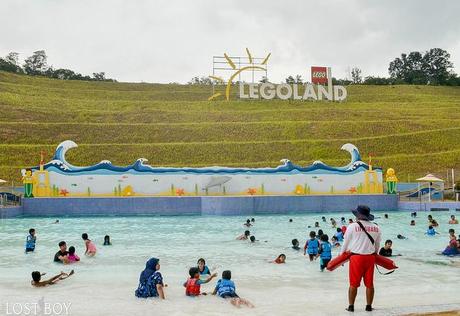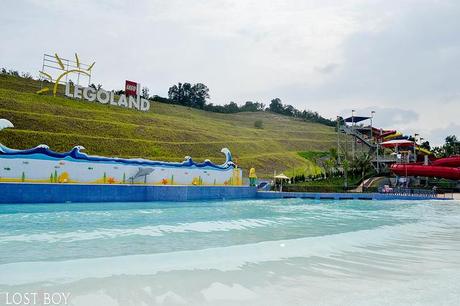 We are admittedly big on waterslides, and the park thankfully has quite a number! First ones we tried were those for the big kids. Back-to-back are the most popular Brick Blaster and Splash 'N' Swirl. The former takes two or three people on an inflatable sliding and swinging through two tunnels, while the latter takes one or two people swirling round a circular slide.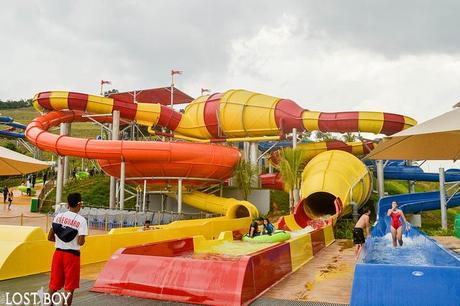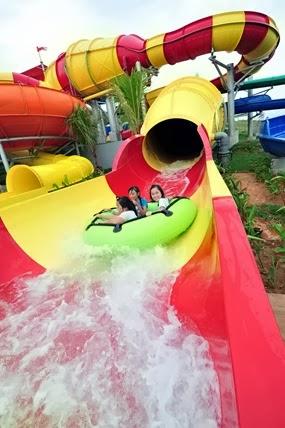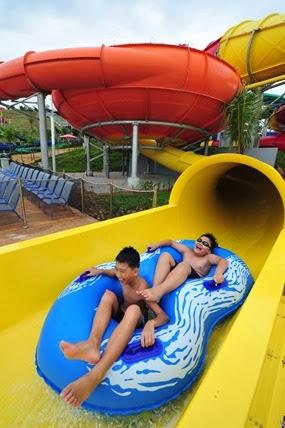 Those into body slides will like the open Wave Rider and the closed Tidal Tube. Both waterslides rise at 240 meters high, so a ride at any of the two, I must say, is exhilarating!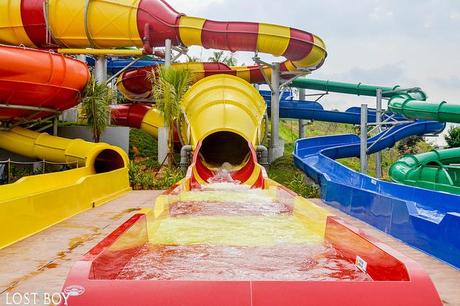 Those who prefer less of an adrenaline rush will like Red Rush, where up to a group of four can ride an inflatable across a very wide half-pipe waterslide down a wading pool. Beside it, meanwhile, are Splash Out, a row of three unique slides that speed riders into the water area below, and Twin Chasers, side-by-side waterslides that stretch 130 feet long.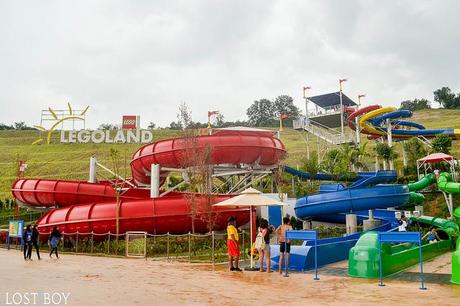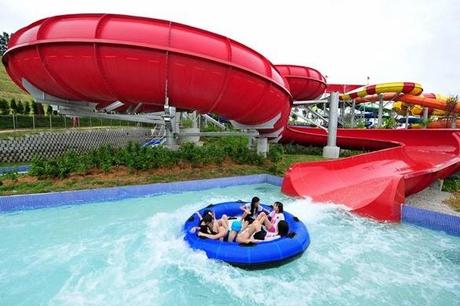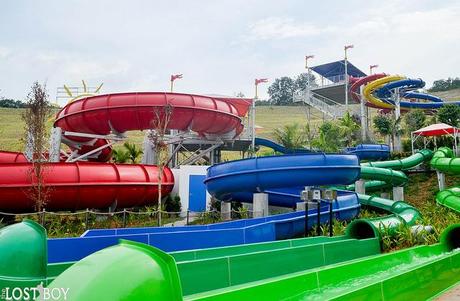 But the thrill-seeker in me found a favorite in LEGO Slide Racers. Its five slides, I believe, are the tallest and most exciting. Each of us had to ride a rubber mat headfirst down a closed waterslide followed by a steep half-pipe. I must admit I was frightened a little!
After spending hours at the park, we had a good meal at Beach 'N' Brick Grill, a restaurant serving both Asian and Western favorites. Since we've eaten lots of hawker food in Singapore the day prior, we opted for a burger, a hotdog, salmon fingers, fries, and onion rings. Another food and beverage outlet at the water park is Brick Bay Café that serves up some light snacks, ice cream, and an array refreshments like shakes and cocktails.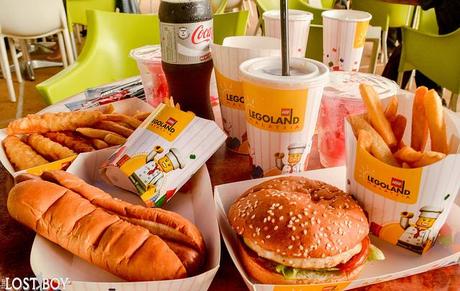 Among the other features of the park are the private cabanas that can be rented for a fee. It features comfortable beach beds and chairs, a fridge for free drinks, complimentary towels, an electronic safe, and a host who assists. Lastly, Brickwater Beachwear is where swimsuits, towels, and exclusive souvenirs can be purchased.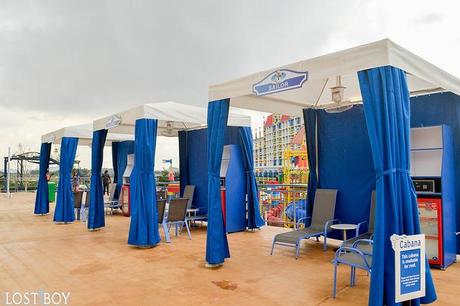 It rained hard in the afternoon, so as a safety precaution, our day had to be cut a little shorter than scheduled. Nonetheless, we had a great first time at LEGOLAND Malaysia Water Park, and we've already readied ourselves to have another day of awesome water fun soon!
RELATED POST: How to Go to LEGOLAND Malaysia

Next year will be Visit Malaysia Year 2014 with the theme, "Celebrating 1Malaysia Truly Asia." Visitors can expect a series of year-long special events and activities. For more updates on VMY 2014, check out tourism.gov.my and like Tara Na Sa Malaysia on Facebook.