I thoroughly enjoyed my day at LEGOLAND Malaysia, so much so I want everyone to visit. But before actually going, I hope first timers would find these tips helpful. Read more…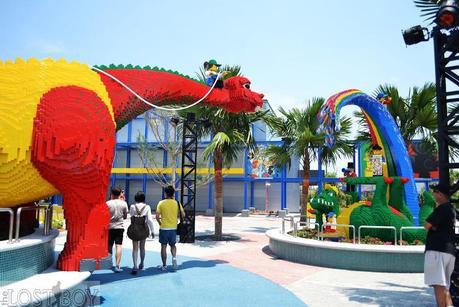 GETTING THERE
Plan how you want to go to LEGOLAND Malaysia—through Kuala Lumpur or Singapore. Johor Bahru is around four hours away from Kuala Lumpur, while Singapore is an hour away. Just a reminder, Cebu Pacific Air flies up to twice daily to Kuala Lumpur from Manila and daily to Singapore from Manila, Clark, and Cebu.
We Filipinos enjoy visa-free entry to both Malaysia and Singapore. For all other nationalities, check online if a visa is necessary to any of the two countries.
For transportation options from Kuala Lumpur and Singapore, check out my comprehensive guide on How to Go to LEGOLAND Malaysia.
ACCOMODATIONS
Johor Bahru has more budget-friendly and value-for-money accommodation options than its neighbor Singapore. However, Singapore has more luxury hotels.
I've personally stayed at Tune Hotels in Danga Bay. According to the website, it's only 20 minutes away from LEGOLAND Malaysia by car or taxi.
WHAT TO BRING
If arriving from Singapore, a passport or travel document is of course mandatory.
Bring Malaysian ringgit if possible, since it is the currency. While the park takes Singapore dollars, buses and taxis only take the ringgit.
Weather in Johor is generally hot and humid, so it's a good idea to bring sunglasses, a hat, an umbrella, sunscreen, and other forms of sun protection.
Again, because of the weather, it's best to bring a change of clothes.
WHAT TO EXPECT
Expect a hot and humid day, so be dressed in really light clothing. However, as Malaysia is a tropical country, expect occasional rains. Check local weather forecasts to be sure.
LEGOLAND Malaysia is quite distant from Johor Bahru's city center, so plan transportation options in advance.
Volumes of people can be high, as the park is still new. There might be long queues.
The park is open daily except Wednesdays. Check park hours beforehand to be sure.
LEGOLAND Malaysia was designed with kids ages two through twelve in mind, so expect the rides and attractions to be geared towards them. However, for us big kids, there still are a multitude of fun activities, as it is after all, a family-friendly park.
AT THE PARK
At food and beverage outlets and souvenir shops, international credit and debit cards are accepted. There are two ATM machines, too.
For people traveling with luggage, lockers are available for a fee.
There are prayer rooms (Surau) and Halal food options.
Food and even beverages are priced reasonably. A meal averages maybe 20 MYR, while a bottle of water is 2.50 MYR. Sodas and juices are around 4 MYR.
Prepare funds for souvenir items, as they can be expensive.
Safety is a top priority, thus do follow instructions posted at each attraction. By the way, they might close some attractions due to the weather.
Always wear a smile, and remember to have a great time!
For more answers to frequently asked questions and tips, refer to this page. For updates, like LEGOLAND Malaysia on Facebook and follow them on Twitter.

LEGOLAND Malaysia opened to the public on September 15, 2012 in Nusajaya, Johor. For details on how to go, read this guide. For a tour around the park, check out my posts:
The Beginning and LEGO Technic
LEGO Kingdom and Imagination
Land of Adventure and LEGO City
The Amazing MINILAND
LEGOLAND Malaysia Tips and Survival Guide

Cebu Pacific Air flies up to twice daily from Manila to Kuala Lumpur and up to 28 times weekly from Manila to Singapore. It also has flights to Singapore from both Cebu and Clark. For more details and to book low fares, visit CebuPacificAir.com.