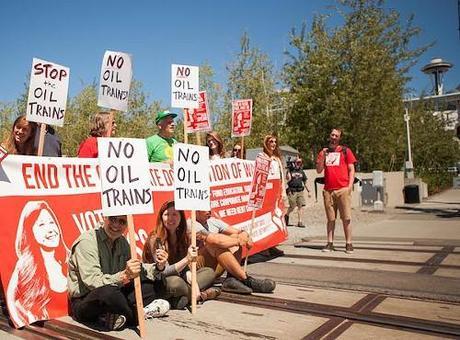 photo from The Stranger
by Jim Brunner / Seattle Times
Jess Spear, a socialist running against state House Speaker Frank Chopp, was arrested Thursday during a protest against oil trains running through the city.
Spear and two others were arrested for trespassing by BNSF police after the protesters blocked tracks in downtown Seattle.
Gus Melonas, a spokesman for BNSF, said the arrests occurred after more than a dozen protesters were warned to leave the tracks. Most complied, but three who refused were arrested.
Spear was booked into King County jail on a charge of second-degree criminal trespassing, jail records show.
"BSNF does not tolerate trespassing on railroad property," Melonas said. He said 20 people were killed by trains on BNSF property last year.
In a statement through her campaign, Spear said Seattle had "dodged a bullet" last week when a train carrying nearly 100 cars of crude oil derailed under the Magnolia Bridge. No oil was spilled and there were no injuries in the incident, but Spear said it highlighted the dangers such trains pose.
"Oil and railroad companies are gambling our lives and our environment for the sake of ever greater profits," Spear said in the statement.
A member of the Socialist Alternative party, Spear is running in the 43rd Legislative District this year, challenging Chopp, a powerful Democrat who is the longest serving House speaker in state history. A spokesman for Spear said he expected her to be released from jail later in the day.
Trains have long carried crude oil through the region, according to railroad officials, but the use of long trains of 100 cars or more is new within the last couple years.
Environmentalists and state politicians including Gov. Jay Inslee and U.S. Sen. Patty Murray have raised questions about the safety of those trains running through densely populated and environmentally sensitive areas.