We got to try this place using a voucher, so I'm not sure the portions in our pictures is what you get on the normal menu. The food was great, though, so we decided to share what we ate along with their regular menu prices. This place, I heard, is owned by one of my friends from high school I haven't gotten in touch with in a long time. :)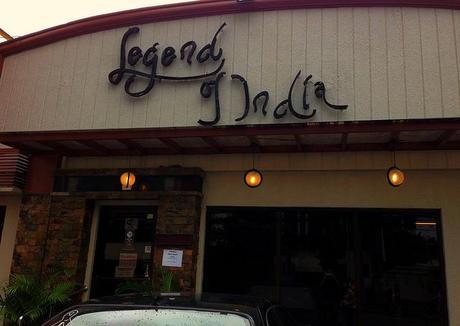 This place is located on Jupiter street in Makati. Not my favorite nor the most convenient place, but it was a place I wanted to try so we thought it's worth the trip.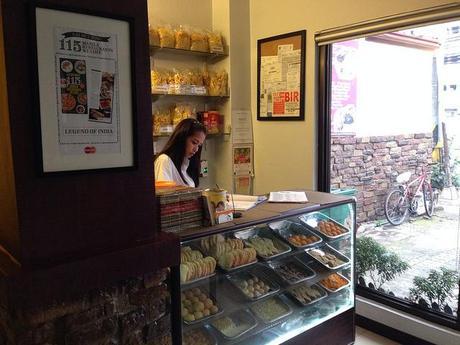 They have a snack section where you can take out some Indian snacks and pastries, that I sadly have no notion of. Haha.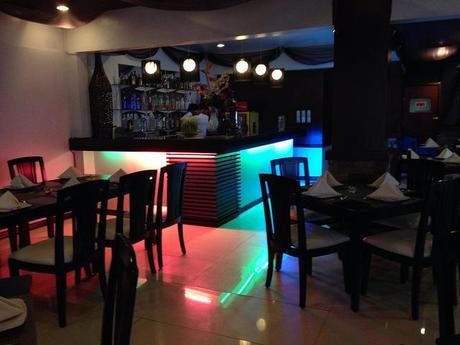 A quiet, at the time empty, yet sufficiently lively place and I enjoyed the privacy when we dined here.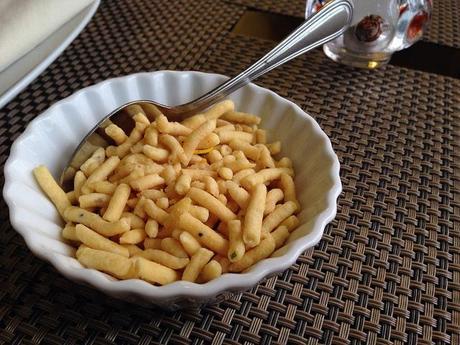 They started off our culinary series with a small bowl of chips that are alien to me, but appetizers are appetizers, and it did what appetizers do: keep you company until the real food comes. Haha.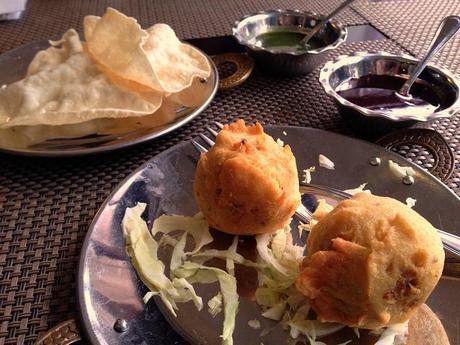 Toasted Papadum, P30.00
Aloo Boonda/Potato Balls, P120.00
Diced Potato mixed with Indian herbs and spices, fried in Gram Flour
I ought have gotten ready for all the unfamiliar food names that I would encounter! The papadum tasted kind of like tougher tofu chips and didn't quite appeal to my taste too much, but it was fun to eat anyway. The Aloo Boonda was nice and quite heavy, so I'm glad they only served us one each to start because there was so much more coming!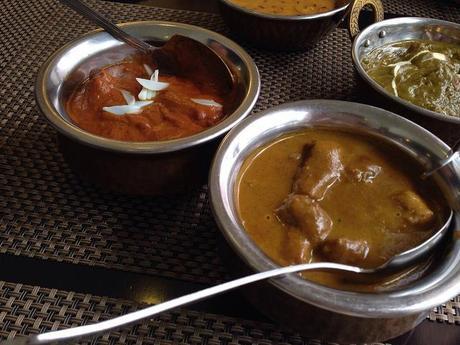 Chicken Masala, P340.00
Fish Curry, P420.00
Boneless chicken mixed with egg, tomato, onions and mild spicesPieces of fish mixed in blend of tomato and onion sauce and flavoured with mild spices
The Fish Curry wasn't bad. It had almost the usual curry taste done well, and good pieces of fish fillet that filled the bowl.
The Chicken Masala, on the other hand, genuinely blew us away. The chicken fillet was as expected but the sauce was terrifically flavorful and mildly spicy (we only ordered it 'mild' because Alvie can't take the heat). We couldn't stop eating it. I loved it so much that it was the only thing I had a second order of, and I tried it at the spiciest level and it was unsurprisingly even better. Excellent stuff!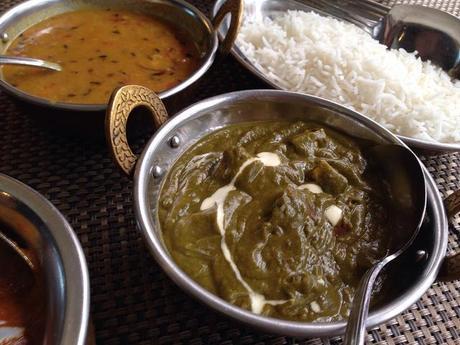 Dhal Tarka, P250.00
Palak Paneer, P280.00
A very famous Indian dish, yellow lentils cooked with special Indian spicesBlended spinach mixed with home made cottage cheese
The lentil soup was also quite good, and so was the blended spinach with cottage cheese. The paneer dish, also a usual favourite, really did quite well for me and I think is the second best thing I enjoyed from this visit.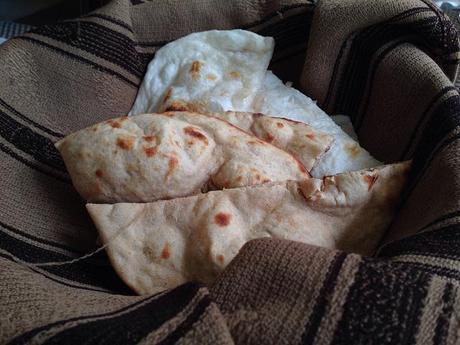 Plain Naan, P100.00
Tandoori Roti, P80.00
Plain flour breadWhole wheat bread baked in a clay oven
Of course, what goes best with all these infinitely flavorful, thick sauces for your lunch? Well, aside from good rice, I mean? The addictive unleavened breads in the form of Naan and Roti. I don't quite remember which one I liked more, but they were both really good.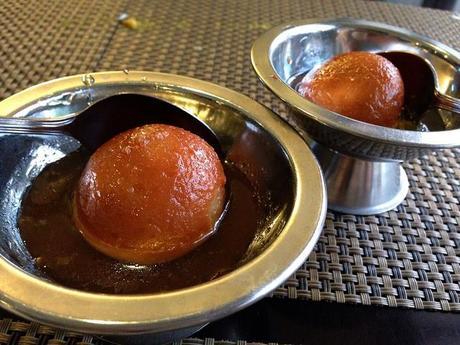 Gulab Jammu, P60.00
North Indian Treat: Deep fried milk balls in thick syrup
You can't leave the restaurant with a flaming mouth, and sometimes water just won't cut it. To douse the overwhelming flavor swirling in your mouth, these milk balls in overwhelmingly sweet sauce do just the trick. Haha. It's very custardy and is like tiny leche flan cakes in a super thick sweet sauce.
Menu:
Set Menu
Condiments, Papadum, Desserts, Jain Dishes
Soups, Vegetarian Appetizers
Vegetarian Lovers
Chicken Lovers
Mutton Lovers, Fish Lovers, Shrimp Lovers
Rice, Breads
Verdict:
Toasted Papadum: Okay
Aloo Boonda: Good
Chicken Masala: Excellent!
Fish Curry: Good
Dhal Tarka: Good
Palak Paneer: Very Good!
Gulab Jammu: Very Good!
Even if a lot of the menu was alien to me to begin with, we were happy to encounter some amazing new dishes. I really should get around to eating here again sometime when I'm in the area of Jupiter.
Love Legend of India? Hate it? Let me know by commenting below, or just
tweet
me!

LEGEND OF INDIA
114B Jupiter St.,
Bel-Air, Makati City
(02) 836-4232
Operating Hours: 11:00 am - 10:30 pm
Facebook: Legend of India
View Larger Map