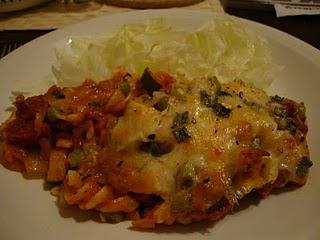 Chorizo Pasta Bake

In continuation of our post about frugality (still don't know if that is actually a word), here is a concoction we made one night last week with just what we had left over in the fridge. By some strange fate it seemed that all the bits and bobs we had were exactly the right amount for what we wanted to do. This dish was great as we didn't spend anything on ingredients, and it fed us both for two nights. Bargain!
We made a pasta bake which isn't unusual when scrimping around for left over bits and bobs as I suppose there are limitless possibilities for what to put in them. 
This is what we used: (the amounts are very approximate)
100g Chorizo (diced)
Handful of Frozen Peas
1 Onion (chopped)
Half a Corgette (diced)
Half a tub of Passata
A glug of Double Cream
Gluten-free Pasta (enough to cover a lasagne dish)
2 Spring Onions (chopped)
Grated Mozzarella and Chedder mix
Olive Oil
Dried Oregano
Dried Basil
A little water
Salt and pepper
What to do:
Fry the onion for 5 minutes to soften.  Then add the chrorizo and fry for a further 5 minutes until the oil is released .  Add the courgette and fry until soft.  Season with salt and pepper and add the dried herbs.  Then pour in the passata and cream and bring to a simmer.
In a lasagne dish, cover the bottom with dried pasta and add the sauce and frozen peas.  Mix well and add a little water as necessary to just cover the pasta.  Sprinkle the cheese and spring onion over the sauce to make the topping.
Cook in a pre-heated oven at 200 degrees for about 30 minutes.