from The Sparrow Project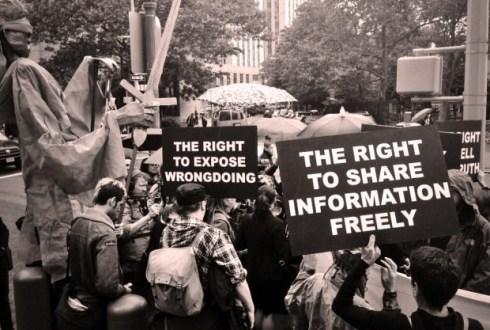 New York, NY – As Friday night's plenary at the Left Forum at NYC's Pace University comes to a close activists will gather outside at 9:15pm for a march to the Metropolitan Correctional Center (MCC) to protest the unjust and politically motivated detentions of activists Jeremy Hammond & Gerald Koch, and to create a boisterous show [of] solidarity for all political prisoners housed at the MCC.
This action is part of three days of events to run in conjunction with the annual Left Forum. Speakers at this years forum include Oliver Stone, Jill Stein and Noam Chomsky. A list of forum events supporting Jeremy Hammond is posted below.
FRIDAY, 6/7
9:15 PM (meet outside right after plenary)
Gathering and short march to Metropolitan Correctional Center in solidarity with Jeremy & all political prisoners housed at the MCC. Bring your musical instruments or anything else that makes noise.
SATURDAY, 6/8
ALL DAY
Visit the Jeremy Hammond Defense Committee in the Left Forum exhibition hall.
SUNDAY, 6/9
12:00 PM (Session 6, Room W605)
See a Left Forum panel on the issue of Hacktivism, Information Activism, "The 5th Estate: Hacking, Leaking, & Investigative Journalism in the Age of Secrecy". Panelist include: Gabriella Coleman (anthropologist & "Anonymous" expert), Will Potter (journalist & author of Green is the New Red), Grainne O'Neill (defense attorney for Jeremy Hammond)
SIGN THE PETITION
Jeremy's twin brother, Jason, launched an online petition calling for the judge to grant Jeremy a sentence of time served. Jeremy has already spent 15 months in prison, including weeks in solitary confinement. Three of his Irish and British co-defendants are walking free today and none of the remaining three will spend more time in prison than Jeremy already has pre-sentencing.
Jason is pushing against the entire weight of the federal criminal justice system—the same system that drove Aaron Swartz to suicide—and he can't do it alone. If you haven't already, please join Jason in saying that Jeremy has spent enough time in jail by signing the petition at Change.org. If you have already signed, please tell your friends, family members, and co-workers to sign — http://freejeremy.net/petition