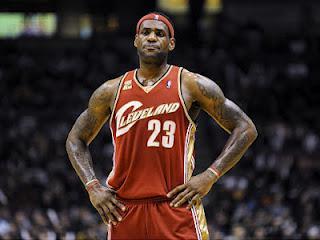 Photo: NY Daily News
- Troy Ballard
Try to suppress your laughter -- LeBron James of the Miami Heat has openly stated that he would consider a possible return to the Cleveland Cavaliers.
Yes, this is the same King that bailed on Cleveland to join the most epic basketball trifecta in memory. The very same LBJ that went about his choice to leave in free agency with the largest media spectacle in NBA history. The same James that is loathed by the entire city of Cleveland.
Don't worry Heat fans, your boy made sure to clear up any misconceptions after he made his bold statement about Cleveland, claiming
that he is totally focused on Miami basketball this season
. Which is a relief, because if he wasn't, who would be there to suck in all the media attention practically bursting out of American Airlines Arena?
But James' comments, even if they were made in passing to a reporter doing shoot around, they still propose an interesting scenario. What if, (this is a big one), but what if James played out the remainder of his contract with the Heat, and then reflected legitimate interest in playing with the Cavs' again?
To start off with, James wouldn't even have the chance to consider returning to Cleveland until the 2014 season, which is a player-option year in his contract. The same goes for 2015, but the year after that, the King would be a big UFA, or unrestricted free agent.
Let's assume that James would pick-up that player option in 2014, because you know, he's still wants to win not one, not two, not three, not four. (Couldn't resist). Then, LBJ would decide he has had enough of winning, and he would bail in the 2015 season and enter free agency.
The first team to call James would be the Cavaliers, right? Cleveland would be begging with him to come back and pair-up with a much developed Kyrie Irving. The Cavs' wouldn't be able to resist bringing back the golden boy! It would be like he never left! The fan base would throw a huge Ohio-bash, and would celebrate the return of the King to his true home!
Hardly, LeBron.
The fact you even have a slim idea that the Cleveland Cavaliers would want you back is absolutely insane. The way that you bailed on the Cavs' organization burned any potential bridges, not only with ownership and upper management, but with the fan base. It's way too late. If you wanted to be loved in Cleveland, you should have never left.
I am generally full on-board the LBJ-train and have nothing but adamant support for him. But this is too much. His ego has reached a whole new level, and I hope that he gets a reality check when he is greeted by the Cleveland fan base.
There will be some writers that hop on full-speed with this idea. The countdown clocks will start until James' return to Cleveland, but it's never going to happen. James may wish he could redo his departure from the Cavs', but there won't be any forgiveness from the fan base or organization. It's just too late in the game.
Here's some advice, LeBron -- Win a championship, continue to build relationships with your teammates, soak in that Miami sun, and cross the free agency bridge when you get to it.
Be sure to follow Beard and Stache on Twitter @BeardAndStache, and also Troy @TroyBallards, Like our Facebook page HERE!