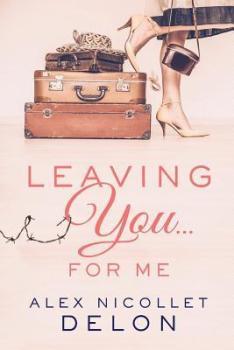 Leaving You…for Me by Alex Nicollet Delon
Published by Nicollet Press on June 12, 2018
Pages: 304
Format: Paperback
Goodreads
Buy on Amazon



While there are any number of dating guides out there – books on everything from how to get a man to how to keep him, books which give us rules or encourage us to break rules, books which idealize romance and others which aspire to empower us to reclaim and retain our independence – few books speak as honestly to the trials, tribulations, poignancy and humor of re-entering the dating pool after a long, monogamous relationship, or to what it might take to muster the courage and mettle to do so.

Alex Delon was 17 when she married and 65 when she walked away from the man she loved and the only life she knew. Through those years together, she had worked with her husband to build a multi-faceted, multi-million-dollar business – truly a family business – a cornerstone for not just them but their three grown children. She'd been his wife, lover, and partner, their mother…and loved being a grandmother. She'd also become a master of denial…that defense mechanism that becomes a place littered with eggshells, lies and betrayal where we hide from the truth and smile for our family photos.

Despite the back-story, LEAVING YOU… for me, is neither a rant nor sermon, a tirade nor a pedantic list of rules. It was written in real time – in those raw-explicit moments not tempered with perspective. And despite the author's age, it is not written for seniors. Rather, LEAVING YOU… for me, is a book for any woman picking eggshells out of her feet, wondering why or what she can do to fix her relationship, glue her broken dreams back together, and for any of you seeking to reclaim your sense of self, your sense of humor, and your sense of adventure in the wake of a failed relationship – whatever your age.
When I was contacted about this book, I had never heard of the author or the book itself, but the synopsis seemed pretty interesting, so I said "sure, I'll read it".  Now that I've read Leaving You… For Me by Alex Nicollet Delon, I'll share my thoughts:
The book's author, Alex Delon writes this book as somewhat of a memoir, somewhat of a diary and finally, somewhat of an instruction manual for women who may or may not have to walk in her steps in their future.  
Alex Delon was 17 years old when she married her high school sweetheart, and she was 65 years old when she left that marriage. Together, she and her husband raised their three sons, built a multi-million dollar empire and two of their three sons were principals of that business. As my mother used to say, "no one knows what goes on behind closed doors" and this is the case that is true.
No one knew the secrets of their marriage – how he criticized her in private, how he raised his temper or how he was intimidating toward her in their relationship. Alex felt so lonely but no one knoew.  Finally, amongst the many promises of her husband changing his cheating ways but not doing so, Alex finally got up and walked right out of that marriage despite her feelings of guilt for breaking up their pseudo-perfect family.
As Alex herself says, Leaving You…. For Me is a book for any woman seeking to reclaim her sense of self, her sense of humor, and her sense of adventure in the wake of a failed relationship – whatever her age. Alex shares her personal growth involving heartbreak, healing and the mistakes made along the way of re-learning how to move forward after a messy life event happens.  I found myself rooting for Alex as she manages (and mismanages) her new life.
Alex shares her point of view in this honest and informative book, and shares thoughts about the reason women stay in these types of relationships and how they deal with life as they move forward with leaving when they finally make that decision.
If you are ever in this situation of making the decision to stay or leave, after reading this book you will believe that you do have the right and the strength to make a change that will change the rest of your life.
Read an excerpt of the book HERE. 
You can connect with this book and the author here – WEBSITE  //  TWITTER  //  INSTAGRAM
---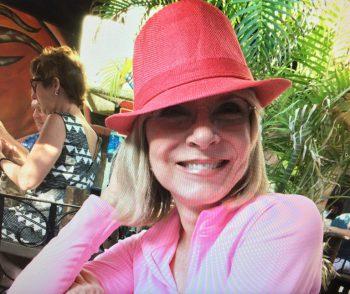 MEET THE AUTHOR: A few years ago, I left home with a Bullmastiff that outweighed me by twenty pounds, and my spanking new Medicare card. Yup, sixty-five and single for the first time since I was seventeen. Instead of closing the door while I mopped up tears, I slammed that sucker behind me, and drove from Phoenix to Flagstaff, Arizona without a jacket. Not a great idea on the first of November in the high country.
Brad was the one that had affairs, but I was going to be the one to screw up Christmas. How does a wife, the mother of three grown sons, whose children had grown up eating chocolate chip cookies and peanuts in her bed as they watched Disney movies, walk out? I didn't just leave Brad. I left my life. It had taken a jumble of courage, fear, and desperation to stay. It took those same things to finally walk away. I read a quote by Ayn Rand, "The question isn't who is going to let me; it's who is going to stop me." Amazing how a simple sentence can have such a profound effect.
Today, I'm proud to tell you I'm an evolution..ever in progress. Finally. And I say that with a gush of relief, and a smile of satisfaction. Sure, I still have days I stutter, step back, or plop down and grab a few tissues, but those are rare now, and more likely because I stubbed my toe. I'm terrified to fail, but more excited and determined to research, write, stretch out my stubborn hamstrings, enjoy the wonderful people in my life, and learn to dance. I love sea level, the salty scent of the air, and a sparkling view to the horizon.
For Alex, beginning again has been the adventure of a lifetime and the adventure continues and expands on her website. It's a place for all of us to learn, contribute, share, pour our hearts out, help each other mop up the mess and then laugh at the often times utter hilarity of love and life beyond a dysfunctional relationship. Buckle up and never give up. You are not alone…never alone.
---
I was provided with a complimentary paperback copy of this book from Strategies PR in exchange for my review.  I was not required to post a positive review and the book was provided for review consideration only, with no strings attached.

~ ~ ~ ~ ~ ~ ~ ~ ~ ~ ~ ~ ~ ~ ~ ~ ~ ~

It would be great if you would stay connected with me!! You can follow me on Twitter @DebiL1611, like me on Facebook at 2014 and Beyond, circle me on Google+, follow me on Tumblr, Instagram and Bloglovin', subscribe on YouTube, or connect with me on LinkedIn and Pinterest.

Please make sure to visit my homepage and subscribe to my blog for more great posts on running, fitness and lifestyle topics as well as food, product, music and book reviews, and more!