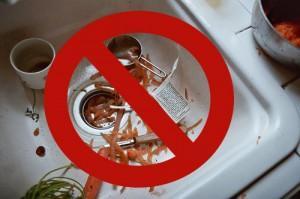 By: Don Zilleri
Is the kitchen sink clogged and need to be fixed? Don't be tempted to fetch the wrench and put on a handyman pants.
Leave the repair and fixing in the hands of professionals. Most of the time, people turn a small problem into a big one when they plan to save  few dollars and cause more damage than the original issue. Since twisting small pipe van cause damage to the flow system and double of the work of a Professional Handyman. So with bigger issue comes a bigger repair fee.
How can you help and save on repair issues? Preventative actions and practice.
A very common cause of pipe clog in kitchen sink is placing wrong items in its garbage disposal.  Do not throw the following list of disposal in the kitchen sink to prevent this common costly mistake;
Discover how to use the kitchen sink garbage disposal before analyzing the operation mechanism of its system.  The common misconception is that the disposal is shredding any garbage and push it down the pipe.
The purpose of kitchen sink garbage disposal is to get rid of bits and small pieces remaining from wiping the dirty dishes. So do not  use the sink as garbage can. The garbage belongs in the garbage can, not the kitchen sink and the pipes.
List of garbage to avoid: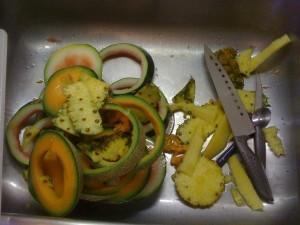 -  Non-food items
-  Hard items, fruit pits and bones.
-  Food items that gum up the pipe, rice and noodles. These ingredients rises and turns into thick paste and clog the pipe
-  Oil and grease act against water flow. Oil might be liquid but turns into solid and hardens when gets cold.
-  Vegetables with strain, asparagus, celery and rhubarb wraps and stuck in parts and blades of the shredder.
-  Coffee and coffee filter. Coffee ground blocks the pipe and act as hardened cement.
-  Banana peels, onion peels, nut shells, cigarette butts and shrimp shells must avoid placing in the kitchen disposal.
No over counter dissolving products:
Sometime people use chemicals and dissolvers sold over the counter to address a clogged pipe issue. If the problem persists after use of these products, the harsh liquid chemical cause rod and damage in the pipes. Applying these harsh liquid chemical endangers the plumbing professional, so alway inform them of its presence in the pipe. Do not use these products without consulting with professional plumbing expert.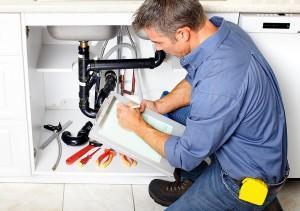 Leave it to pro!
Handyman are skilled and expert in what they do and help solve the plumbing issues. With a clogged kitchen pipe or any other plumbing issue, always consult with a professional plumber or an experienced handyman.
To find a reliable local service professional, Post your need in www.bidsbypros.com