Hey Loves,
Is it just me or is this weather we are having a little nutso? Like you all know, I reside in NYC, so the weather around this time of year is pretty brutal. Lately, it has gone from freezing to currently 50 degree weather. After the
Polar Vortex
, 50 or even 30 degrees sounds like beach weather to me. Crazy right? I wore a chunky sweater yesterday and started to sweat while on my way to work. With the weather being so up and down, it could be a little hard figuring out what to wear. I know, I struggle with this task everyday!
I want to share a few of my tips on how to survive this "bipolar" weather!
1) Layer:
Simple yet it can be so helpful when the weather goes from cold to warmer. I am a layering freak! I wear a tank under everything. Lately, I have been combining long sleeved button down shirts with a cardigan which is so easy to strip down. Think "will I look presntable if I take off my sweater or blazer". 
2) Accesories:
Wearing a hat during the winter helps keep your body warm and a hat is an easy thing to throw off and tuck away in your purse. Scarfs are a simple option too. On warmer days, I'll throw on a lighter scarf and mix it with my winter look. Fun!
3) Check the weather before leaving:
I know this sounds totally obvious but to some it isn't. Taking a second to tune into to the weather before leaving the house gives you a better idea of what to wear. Duh.
Last but not least...
4) Invest In a Functinonal Winter Coat:
Wearing the right coat is essential. I would invest in something knee length, so when the weather gets cold you can be covered up. If you have a warm functional coat, you could always wear something lighter underneath so you aren't sweating when the weather decides to get a little warmer on random days.
In my latest
Outfit of the Day
, I chose tons of layers! It unexpectedly turned into a pretty warm winter day once the sun came out so I literally threw off my leather jacket and struck a pose!
Check out my look.
I went from this...................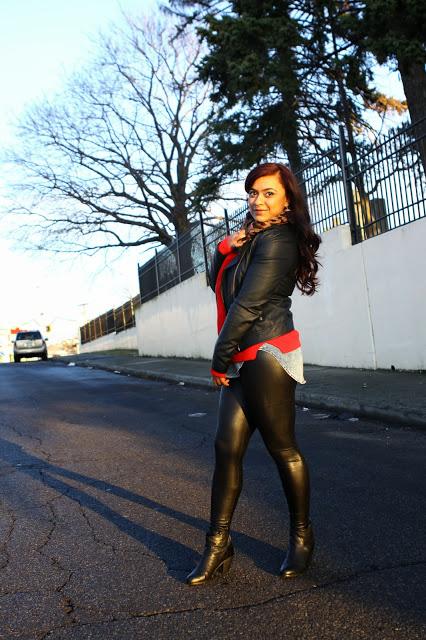 T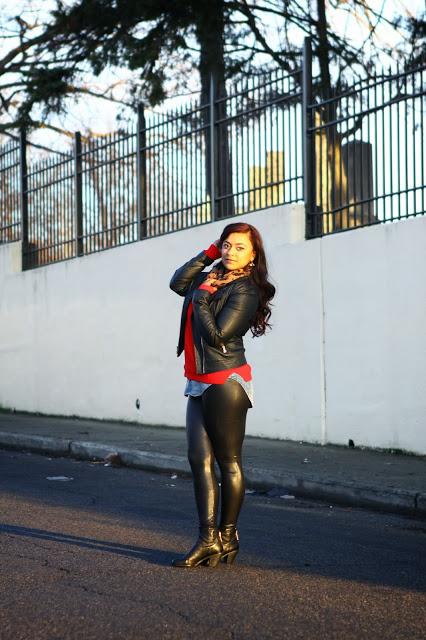 To this, in a matter of minutes............................................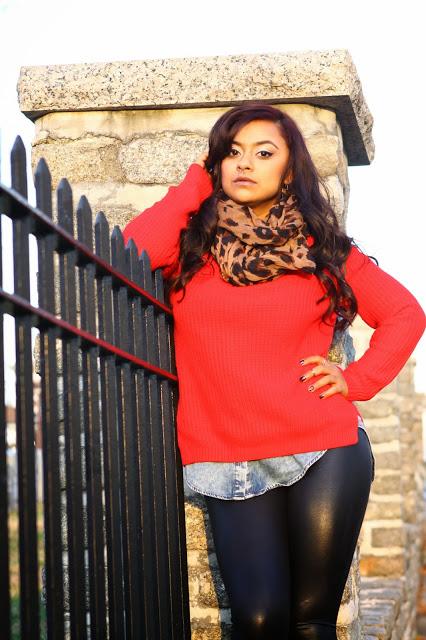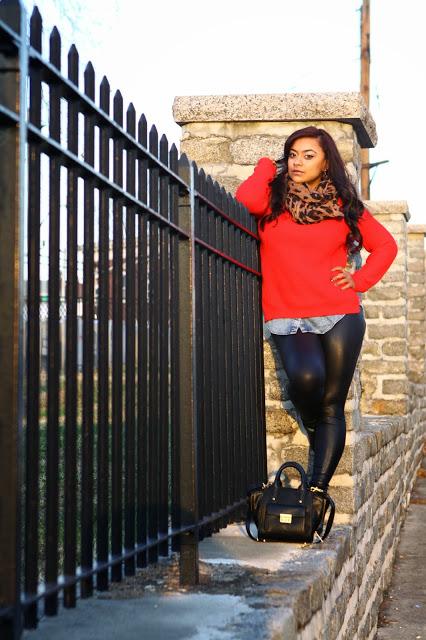 Leggings: Cotton OnSweater: ExpressChambray Shirt: Cotton OnScarf: H&MBoots: SamEdelman Bag: Phillip Lim for Target Jacket: Old Navy