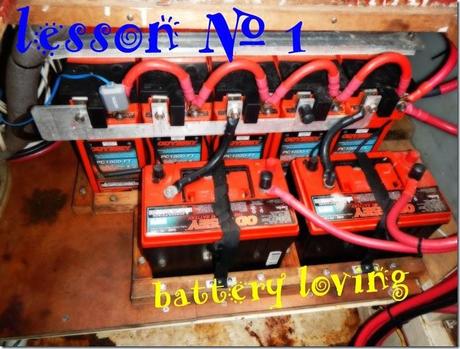 My spare time is pretty sparse these days and whenever we have a little breather I try and learn about the systems on the boat. I'm not a sailor and nor do I have a "nautical" background, you can't learn everything in one day so little by little Carl is teaching me just in case if ever there is an emergency and I have to sail single handed.
Battery Bank and Charging
Salty has 5 x 200 amp hour batteries (1000 amp hours) located under the step down to the first bunk cabin (above). From what I understand all 5 batteries are linked and get drained simultaneously. Our control panel flickers 2 sets of numbers first being how many amps we are burning and the charge left in our 12V batteries. 12.80 is when the batteries are fully charged and 12.20 is at 50% you never want to drain your batteries below 50% or else they'll turn to crap. Our 12V batteries are originals that came with the boat (2011) and are not keeping their charge for very long. We will probably have to replace them when we get back to the States.
Our 24v bank has 6 x 12V batteries, they are wired in paired to create 24V then they are all wired together like the 12V system. These batteries are located in the hall by the galley. Our major systems like steering (burns 10amps), auto pilot, electric winches and fridge/ freezer run from this bank. Theoretically we can cruise for 32 hours (can be pushed to 40 in an emergency) running the autopilot without having to charge this battery bank.
Charging systems: we have 4 different ways in which our batteries can be charged. Motor: the starboard engine charges the 12V bank and the port engine charges the 24V bank. Generator: we have a Onan with a 125amp alternator to charge both banks. Shore power: hit the breaker panel in the laz to charge banks via shore power. Windgenerator: we have a Superwind Windgenertor that really only produces a good amount of power with 15knots of wind and higher.
We aren't that really conservative on power except when it comes to lighting. We haven't yet gotten around to changing out all our lighting to LED's, the galley and salon still have the old fashioned lights that suck the power. We run the inverter for our microwave (which is broken), printer, laptop and cant forget the trusty breast pump etc.
I'm sure there's much more to learn about our battery banks but I've got the basics down.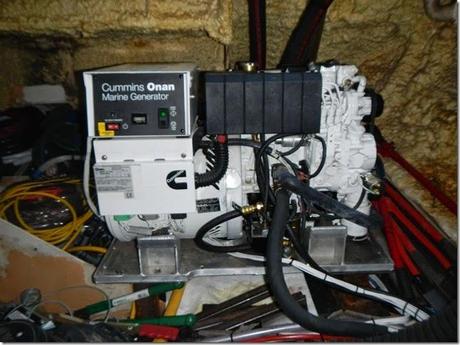 And now back to the baby. Giggle.