There are different online courses which can help you expand your knowledge about your course or about a particular subject matter that has caught your interest. Thanks to the internet, [on my personal opinion, the internet is] the best technology ever invented! With the help of the internet, you can register to any online courses anytime, anywhere! Some online classes offer video tutorials and downloadable exercises to help you easily learn the topics being taught. However, most of these online classes require you to pay monthly or annual membership fees to get access to all of the resources they provide.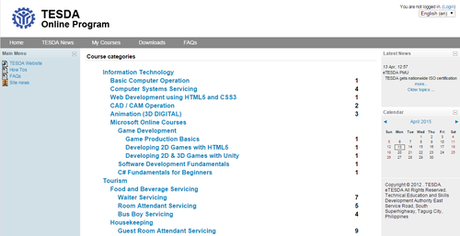 On this article, let me introduce to you the TESDA Online Program which was created especially for Filipinos around the world. This is a FREE technical-vocational online program for every Juan dela Cruz who is interested to learn but doesn't have access to the training centers in the Philippines. 
If you have the luxury of time to study while working abroad, or you are in the Philippines but you can't go to the nearest TESDA learning centers due to proximity constraints, you can try the TESDA Online Program. You just have to pick an online course, register and study during your vacant time wherever you are [provided that there is an internet connection available]. You just need a laptop, tablet or PC which is/are connected to the internet to access the available online TESDA courses.
To start with, you have to create an account by going to http://e-tesda.gov.ph.
1. Fill up the required information and make sure you enter a valid e-mail address.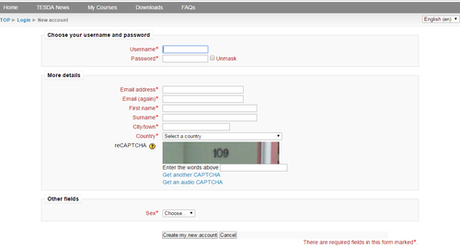 2. A confirmation message will be sent to your e-mail address. Click the confirmation link to complete registration.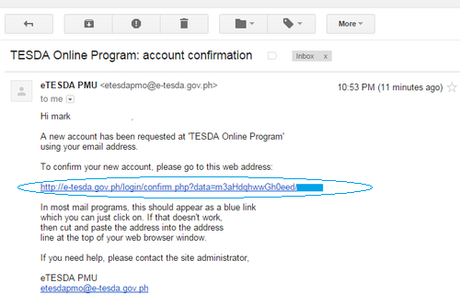 3. After account confirmation, you can immediately start your online course. 


Listed below are the available online TESDA courses as of April 13, 2015:


Information Technology      Basic Computer Operation      Computer Systems Servicing      Web Development using HTML5 and CSS3      CAD / CAM Operation      Animation (3D DIGITAL)      Microsoft Online Courses           Game Development                Game Production Basics                Developing 2D Games with HTML5                Developing 2D & 3D Games with Unity           Software Development Fundamentals           C# Fundamentals for Beginners
Tourism      Food and Beverage Servicing           Waiter Servicing           Room Attendant Servicing           Bus Boy Servicing      Housekeeping           Guest Room Attendant Servicing           Valet Servicing           Public Area Attendant Servicing           Laundry Servicing      Cookery           Preparing Sandwiches      Electronics           Cellphone Servicing           Solar Night Light Assembly
Agriculture      Fruit Grower
Automotive      Diesel Engine Tune Up      Automotive Battery Servicing      Heating, Ventilation and Air Condition      Packaged Air Conditioner Unit Servicing
Trainers Methodology I      Facilitate Learning Session      Conduct Competency Assessment
Trainers Methodology II      Curriculum Development      Health, Social and other Community Development Services
Massage Therapy      Swedish Massage      Thai Massage2      Shiatsu Massage
NOTE: If you want to get a certificate for the course(s) you enrolled online, you need to visit any TESDA assessment centers and take the certification examination. Pass the exam and get certified!
Source: tesda.gov.ph Disclaimer: Images used on this article are property of TESDA.