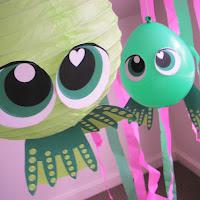 It's no secret that today is that magical day for Leap Year.  When I was little I felt so sorry for anyone who was born on leap year; how sad that they missed three birthday's in a row... no I'm rather in love with the idea of being forever young; without giving too much away; I'd be about 10 years old right now!  But no; I wouldn't change places with anyone.
I thought I'd share a froggy-craft idea with you today being leap-year and all.  And in case the title of this post scared you; no real frogs were hurt in the making of this craft!
To decorate balloons (or paper lanterns if you prefer), you need to make some eyes and feet.  You could cut these out of paper, use magazine pictures, or do as I did and use the printable template in the Princess Party Craft and Activity Ebook.  My girls loved making these, it's hard to see in the picture, but we also used permanent markers to add noses and a smiley-mouth.  The frog-faces and feet are also great fun when stuck to helium balloons as you can pull the string down and then release it to make the frogs 'jump' to the ceiling.  '
Bouncing balloons' are a fun party decoration, and anything 'animated' makes a great party-trick to keep children entertained.
I love helium balloons at parties, and it always brings a smile to my face when I see a car drive past, filled to the roof with pretty helium balloons all pushing at the windows, trying to escape.  Of course, I always stay well clear as we all know how hard it is to see out the rear view mirror with even one party balloon bobbing around on the back seat, let alone a whole car-load.
What do you call a group of balloons?  I guess it's a bunch.  Any other ideas?  Anyway... gotta hop off... Happy Birthday to Lucky Leap-Year people!