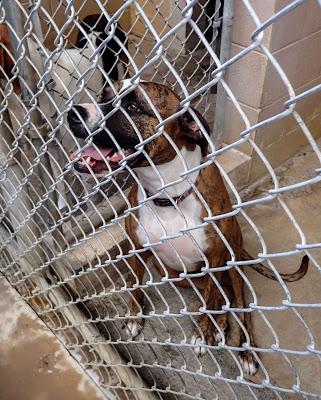 Our friend Vic, who lives on a boat part of the year on the coast of NC and part of the year in the Bahamas, was working on his boat in a NC marina when this friendly dog showed up and instantly won his heart. Another fella at the marina said he knew who she belonged to and quickly took her back home.
When he returned, he was shaking his head. Her owners had loaded her up and taken her directly to the animal shelter.
Vic pondered for a day or two. Then he decided to swing by the shelter and see if she had been adopted. She hadn't and he took the picture above and sent out an email to all his friends, asking if someone would adopt Layla as the logistics of a large dog on his boat just didn't work. He would pay the adoption fee and deliver her if someone would just give her a home. The shelter had said that they were full up and couldn't hold her. 
The story was so compelling that I didn't even look at the pictures he attached. I asked John and we emailed Vic to say we'd take her. And after some bureaucratic wrangling, Vic adopted Layla. He said she jumped in his truck and laid her head on his knee at once.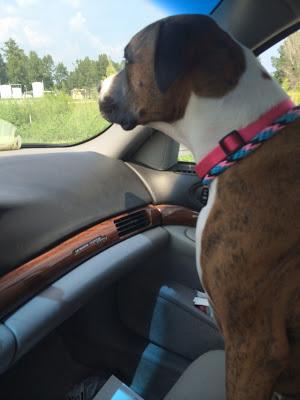 But he couldn't take her to his boat -- she is just too big to lift on and off a boat. And he couldn't get away just then as his son was visiting from Iowa. So he enlisted the help of his friends Mike and Jeannie to keep Layla a few days.
Then Vic's son Noel offered to bring Layla to us on his way (more or less) back to Iowa.  And yesterday afternoon we met her!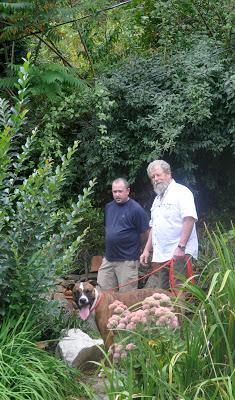 She's a beauty -- a 3 year old, spayed Boxer/Great Dane mix. I think she really thought she'd found her guy with Vic -- but then she was with Mike and Jeannie and then with Noel for a long ride -- poor girl had to be confused. But she seems happy to be here and I hope she'll soon believe that this is her forever home.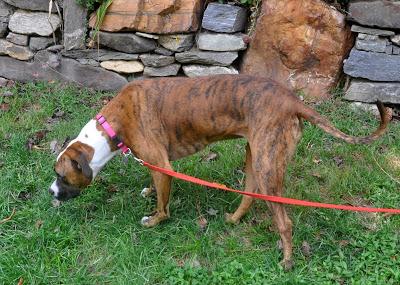 John and Noel let her investigate all the great smells in our entry yard. . .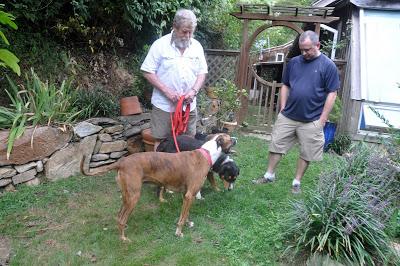 She and Bob made friends right away . . .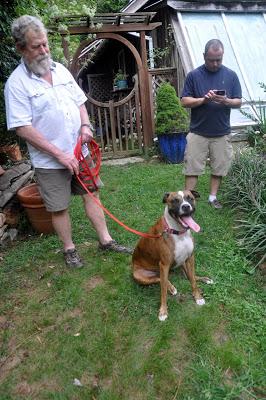 I think she and John both look pretty happy. 
She seems well trained -- sits and lies down on command and responds to NO.
Layla and Bob played hard all afternoon. Willa and the cats went to ground in the back of the house but I expected this. We'll take the rest of the introductions slow and cautious. (Willa hated Bob too when he arrived.)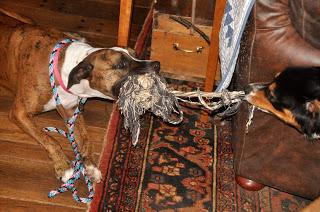 Let the spoiling begin!