It seems every year I live in this city it just gets better and better. The city brought back the bike bait program to crack down on nasty bike thieves. The 
coffee shop
 near my house started accepting credit cards and the 
LAUNCH music and arts festival
 took place last weekend!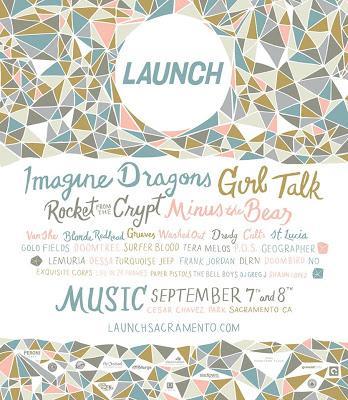 I had the extreme privilege of attending with VIP passes because my very amazing friend, Kari Shipman, of 
Juniper James
 was the vendor coordinator. It was a huge job, but she made it look effortless and everything ran so smoothly. I can't be more proud of her. 
She's been involved with this Festival for at least four years, as long as I can remember the Festival taking place. This year was by far the biggest and best it's been - although it gets progressively better each and every year. 
The line-up had some huge names, drawing people from all over. Seriously, I ran into my freshmen year english teacher, who's now a 
comedian
 in San Francisco. 
My point is, LAUNCH is an incredible emerging festival and I'm so freaking proud of my city.
Here are my weekend highlights according to my Instagram account:
Obviously the music was a big highlight. Minus the Bear was probably my favorite set. I also loved Cults, Doomtree, Dessa, Blonde Redhead and Imagine Dragons. We ended up leaving before Girl Talk (still kicking myself for that one).
Best part of the whole weekend? Being with my friends. It's so rare to be able to be at a festival listening to awesome band with a huge chunk of your closest friends. Thank you LAUNCH!
Another highlight - the food! They had LowBrau in the BFF (vip) lounge and 
Drewskis
 was one of the food vendors. Drewskis is famous for their mac & cheese, pulled-pork, grilled cheese sandwich. I prefer the brie and apples on whole wheat with almonds and honey.
The view from the BFF lounge. I forget which band was playing at the time, but it was so much fun looking out over the crowd, seeing people I knew and watching everyone enjoy the music.
I mentioned that Kari did the vendor coordinating and this is just one of the many awesome things available for purchase at LAUNCH. I got this temporary tattoo at Cuff's Boutique, I kinda wish it was real.
Yet another highlight - the atmosphere. The event creators went out of their way to make sure the venue was a magical, inspiring, space. For a little sliver of time Cesar Chavez park was transformed in a whimsical land of innovative art installations. I especially loved the 
Tapigami
 installation.
And my final highlight is being with my wonderful husband, Luke. I love this guy.
I can't wait to see how they out do themselves next year. Bigger bands? Bigger installations? Who knows? But I bet it's going to be AWESOME.