Latest Crochet Creation:  Harry Potter Themed Tissue Box and Hedwig Toilet Paper Roll Cozy
I am a self diagnosed Harry Potter addict.  Whenever I see a Harry Potter item, I can't help myself.  I own what should be an embarrassing amount of Harry Potter themed t-shirts, figurines...etc. 
While I was crocheting a Disney themed cozy set, I realized I had never crocheted a Harry Potter themed project.  I decided to make a Harry Potter tissue box cozy and who better to accompany him than Hedwig.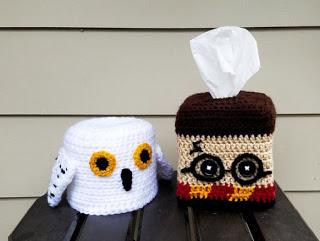 This Harry Potter tissue box and Hedwig the owl toilet paper roll cozy are now available for sale in my Etsy shop.
Purchase This Set