Update March Week 4 :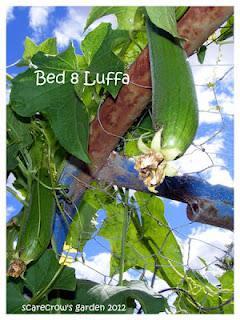 Finally a couple of Luffas are forming...I was pleased that they had at least grown for the first time in my garden. Now I wonder if they will grow big enough before our frosts start???
Temperatures this week:
Lowest Min 4.1C
Highest Max 30.9C
2mm Rain
Propagation:
Seeds:
Cima Di Rapa Brassica rapa from The Italian Gardener
Coriander Coriandrum sativum from home saved seed
Corn Salad (Lamb's Lettuce/Mache) Valerianella locusta from The Italian Gardener (organic)
Spinach - America Spinacea oleracea from The Italian Gardener (organic)
Primula Lollopops Primula malacoides from DT Brown
Snapdragon Brighton Rock Mixed Antirrhinum majus from Mr Fothergill's
Potting up/on:
Onion Tropea rossa lunga
Onion Red Rossa
Beetroot Bulls Blood
Beetroot Heirloom Mix
Beetroot Forono
Black Cumin
Parsley Curled plants rescued from clearing Bed 3
Parsley Italian seedlings from here
Silverbeet White Silver extra seedlings from here
Seedlings planted out:
Into Bed 7 in the Main Veg Garden:
Peas Climbing Snow Mammoth Melting - seedlings from seed sown 3 Mar 12
Lettuce Drunken Woman - seedlings from seed sown 23 Feb 12
Lettuce Red and Green Salad Mix - seedlings from seed sown 23 Feb 12
Shallots planted along the far edge away from the peas
Peas Snow Roi de Carouby into Bed 20 in theKitchen Garden - seedlings from seed sown 3 Mar 12
Into Bed 3 in the Main Veg Garden:
Cauliflower Mini seedlings from seed sown 26 Jan 12
Cauliflower Violet Sicillian seedlings from seed sown 26 Jan 12
The bed has now been covered with Vege Net
Into Bed 2 covered with food nets until the Zucchinis have all been harvested
Kale Moreton's Mixed - seedlings from seeds sown 26 Dec 11
Into Tank bed F went:
Parcel seedlings from seeds sown late last year
Chervil seedlings from seeds sown 23 Feb 12
Love in a Mist seedlings from seed sown 23 Feb 12
Basil Sweet Genovese (from here ) seedlings planted into a Wicking Box in the hot/greenhouse
Cuttings/Division:
Divided a pot of Horseradish Armoracia rusticana syn. Cochlearia armoracia into five new plants
info link
Harvest Tally:
Doesn't include Greens fed to the chooks on a daily basis or herbs picked for use in the kitchen for cooking or tea making.
Beetroot Chioggia 83g
Beetroot Golden Detroit 190g
Kale Red Bor 80g
Onion Stuttgart 174g
Onions Sweet Domenica 587g
Parsley Curled 83g
Pumpkin Australian Butter 350g
Pumpkin Triamble 675g
Pumpkin Whangaparaoa Crown 3000g
Tomato Money Maker 499g
Apple Jonathon 734g
Peaches 2162g
Eggs: Total for the week
25 From the 5 Farmyard Ferals
0 From the Lone Barnevelder
0 From the 4 Faverolles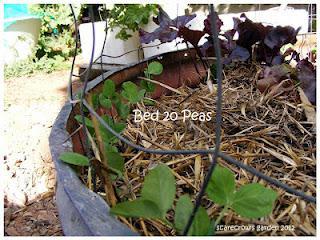 Roi de Carouby Peas Snow planted into Wicking Tank Bed 20 in the kitchen garden! They are  getting attacked by grasshoppers but seem to be coping ok!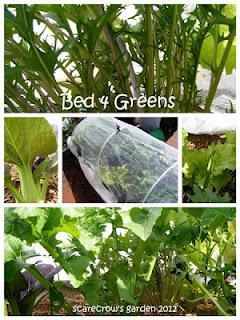 The Brassica greens in Bed 4 are growing well behind their Vege Net protection and are almost ready to pick to give the growing garlic room to develop.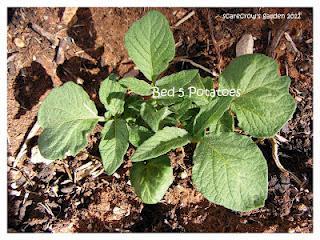 The Potatoes in the Autumn trial patch 
(Bed 5) have been covered with some netting as there are Plague Locusts in our area and they love potato tops!!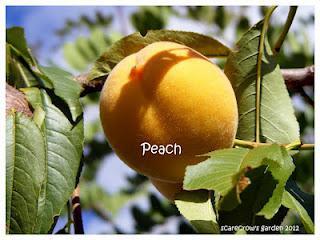 Haven't had many of these peaches for a few years but this year they are delicious.  I have made  jam,  chutney, and stewed some and they would be good for bottling if we have enough left after doing all that. 
I don't know the variety as the parent tree was already growing here when we moved in 18 years ago! That tree never produced a crop that didn't split just as the fruit was ripening. This tree is one of it's seedling offspring and the fruit has never split!
To see how the various Garden areas fit on our half acre block check out the newest Planting Plan for Autumn HERE  This is updated as planting occurs.